Opening Ceremony Speech of 2011-2012 Academic Year
Mr. Nguyen Dac Vinh, alternate commissioner of the center executive committee of the Communist Party of Vietnam,
Distinguished guests,
Teachers and students,
In today's autumnal ambience of the August Revolution and Independence Day, we integrate with millions of teachers and students in a jubilant atmosphere, solemnly holding the 2012 – 2013 opening ceremony at Hanoi – Amsterdam High School for the Gifted.
First and foremost, on behalf of the teachers and over 2,500 students, I warmly welcome and express our sincere thanks to our comrades and leaders of the Ministry of Education and Training, the City Committee, the Peolple's Assembly, the People's Committee, and delegates from different departments of Hanoi, Cau Giay district and other districts for joining us today.
I would like to send greetings to teachers, colleagues, comrades and all the students. Congratulations, especially to tenth and sixth graders, excellent students of the city who have just been admitted to our school.
Distinguished delegates, esteemed guests!
Dear teachers and students!
Last school year was the second time we teachers and students worked in this well – equipped and modern school. We have undergone a comprehensively solid development, step-by-step accomplishing the mastery of high technological facilities and taking good care of a more beautiful, greener school. We are delighted to see our school's continual improvement, exhaustive education quality's maintenance and cutting – edge education's progress. We teachers and students have been narrowing the academic standard gap among international schooling.
In the school year 2011 – 2012, the School Board variably altered the professional guidance through topics, efficiently implementing the qualifying instructions of moral and behavioral characteristics on students, effectively conducting the curriculum innovation project degree, making great efforts to train intellectual human resources to satisfy the demands of the knowledgeable economy and the increasing needs of the society, simultaneously clearing the level distance from international standards successfully. An exciting and productive school year passed, culminated by achievements in national and international examinations. Many outstanding students continued to gain high rankings with exceptional progress in both quantity and quality.
At the International Young Science Olympiad held in South Africa with 252 students from 46 countries, six students of our school won 3 silver medals and 3 bronze medals. These are the highest results of Vietnam over the past International Science Olympiads. At the International Olympiad in 2012, the students from grade 12, Nguyen Hung Tam and Nguyen Viet Hoang, won the Silver medals in Mathematics and Chemistry. At the International Intel ISEF held in the United States with 1,549 students from 70 countries and regions, in the victory over numerous opponents from the continent, the Vietnamese team composed of three students at Mathematics and Physics specialized classes, Tran Bach, Bui Thi Quynh Trang and Vu Anh Vinh threw a miracle, winning the First prize in the field of Electrical Engineering and Mechanical Engineering with the creative theme : bring greater efficiency to the community "Handling the conversion of salt water into fresh water using a vacuum technique and solar energy for daily life". They were honored to become the first Vietnamese students stepping up to the glorious podium to receive the official contest Intel ISEF in the American land.
Being an excellently advanced unit of Hanoi, our Hanoi - Amsterdam went on to lead the country in national examinations for remarkably academic students, with 75 students achieving prizes including 9 first prizes and 26 second prizes in the school year 2011 - 2012. Students from Hanoi – Amsterdam won over all provinces in the country in the number of awards and first prizes. In the 2012 universities and colleges' entrance exams, our students got the national rank of No. 11 and No. 1 in Hanoi city according to the statistics of the Ministry of Education and Training.
We are proud of the achievements of secondary students block. Their degrees have reached the international standard. At the International Mathematical Contest 2012 held in Taiwan with the participation of 28 countries, they have won 15 prizes and 7 medals, ranking respectively No. 1 and No. 2 in high school and secondary school cooperation. In the contest for the gifted of Cau Giay District, 106 students won 11 first prizes. At the city level, 62 students won 14 first prizes.
The students from Hanoi – Amsterdam for the Gifted High School always maintain our school's position, the significant role in leading the trend of outstanding students in Hanoi Capital. Please warmly praise their accomplishments!
Distinguished guests,
Teachers and students,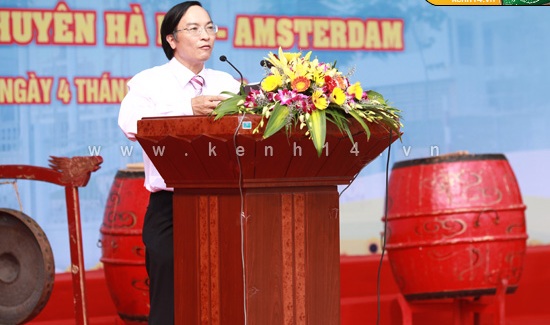 In the school year 2011 – 2012, along with improving teaching qualities, we also focus on all-sided education. Besides impressive academic achievements and research work, our students also make great accomplishments in extracurricular activities, social work as well as participation in the Youth Union and the Young Pioneer League. Gratitude events following the traditions of our country has always been organized. Charity work such as taking care of Vietnamese Heroes' Mothers (Mrs. Ho Thi Gia), helping poor children in remote areas and assisting regions that suffered from natural disasters to overcome the predicament has been conducted. Performances and sporting activities have become intriguing parts of school life and they have attracted the involvement of both teachers and students.
All-sided education including ethics and soft skills lessons and physical activities enables students to develop dynamic and creative personalities. The large number of social activities has become a distinguishable feature of Hanoi – Amsterdam High School and our students are making considerable contribution to the society.
Traditions, local history and elegant lifestyles education has been expanded in the school. The instigation of teaching using the publication entitled "Educating High School Students to Lead an Elegant Lifestyle" produced positive results and met the needs of our students. Such progress has fulfilled the goal of educating students to preserve and promote Hanoi's traditions, which plays an important part in complying with the school's disciplines and regulations, and facilitates the performances of teachers and students.
Regarding the strong will to overcome difficulties of students, we must mention those who are in particularly adverse situations but still try their best to study and conquer their hardship. One of them is Nguyen Trung Hieu from 11L1, who wrote an extremely emotional essay based on his own experiences when having to deal with the difficult situation of his family. He has sent a message to us awakening many young people who have yet to conceive the real value of money in life and called for unselfishness, love, altruism and responsibility. With exceptional determination he has always been a brilliant student and participated in charity work helping poor, homeless and handicapped children in Muong Te (Lai Chau). In 2011 he was recognized as one of the ten outstanding young people of Hanoi.
Once again I would like to praise all those students who try their best to overcome difficulties to become good children, students and citizens.
Distinguished guests,
Teachers and students,
Our achievements in the school year 2011 – 2012 have reflected our remarkable effort as well as the support of families and the society and they represent the thanks we would like to send to the Country, the Party, the City Committee, the People's Assembly, the People's Committee, the citizens of Hanoi and all the parents who have put trust in us and facilitate us.
In the new school year 2012 – 2013, more chances and challenges will come. The school board and all our teachers and staff will make greater attempt to make more progress, improve all-sided education qualities, enhance regulations, apply new teaching methods, employ modern facilities effectively, and continue to build up a wholesome study environment that bears our signature.
We will earnestly implement the Resolution of the Eleventh Party Congress as well as the working program of the state. The proper guidance and comprehensive investment of Hanoi Department of Education and Training will achieve a breakthrough, creating much more favorable conditions for teams of gifted students to develop their abilities plus to make great attainments in their own schooling.
We will be committed to innovating education management with more active measures. Construction and improvement of the teaching staff, particularly of professors and young teachers, will always be interested. We will have to ensure that the caliber of teaching capacity, which is now reaching the international standard, meets the growing demands of the capital citizenry.
Along with the dedicated deployment of the curriculum, we teachers and students have to strive to create a modern paragon of Hanoi-Amsterdam Specialized High School in this international integration period, to stay as gifted students with dignity, healthy lifestyle and remarkable capability of integration with the global community. We will further strengthen our cooperation with both national and international educational institutions in order to exchange experiences of advanced education, enhancing tutoring methods to improve the quality of education. All is to achieve "Teachers teach well, students study well." Moreover, collaborative relationships with parents and other socio-political organizations will promote additional conditions to fulfill the school's responsibility to the Capital.
Dear beloved students!
In the fall of 1945, in a letter to students on the first school opening ceremony of the Vietnam Independence Era, revered Uncle Ho wrote "It is the learning of young generations that decides whether our country evolves gloriously or not"
To send that message, you ought to make attempts to reach remarkable achievements in academic field; take responsibility for your families, school and society; follow the shining tradition of our Hanoi-Amsterdam High School. The result of your endeavor will be a meaningful gift to repay your family, school, and teachers; will give yourselves the confidence to continue to learn, practice and develop in the future. I expect to see more efforts from you, more often, and with higher determination to be better at learning, nurturing your hopes, dreams, and the passion for discoveries and scientific accomplishments; to live healthily; to learn with a humble attitude; to be deferential children and grandchildren, outstanding students and trustworthy friends; to promote the unity spirit, sympathizing and helping others so that you can train yourselves to be the nicest children and the best students, to become skilled people with the will to shape your own lives, to contribute to our Capital's civilization and evolution.
Distinguished guests,
On behalf of the school committee, I would like to express our deep gratitude to the Party, the Ministry of Education and Training and the City. We appreciate your precious help and assistance for the teaching of our school, which has enabled our students to train and study in the best schooling environment possible. Your contribution has played a crucial role in the achievements of our students – the country's future generations.
I wish all of you good health and happiness; wish the students a new school year full of success.
Thank you very much!
School Principal,
Pham Van Dai
Translators: Thanh Thao (A1 11-14)
Phuong Quynh (A1 11-14)
Ngoc Van (A1 11-14)