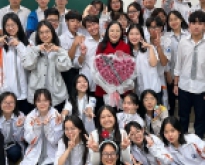 Đăng bởi: trangtrang

| 20/10/2022 | 110
National Women's Day on October 20th has arrived amidst the chilly air of autumn weather. To honor this occasion with the women but also all people...

Đăng bởi: trangtrang

| 06/09/2022 | 130
A new school year has arrived and with it, nostalgia and anxiety followed. After a year without an opening ceremony due to the impacts of the Covid-...

Đăng bởi: trangtrang

| 31/08/2022 | 228
With a view to giving new students of the school a warm welcome as well as informing them about useful information of Hanoi - Amsterdam High School...