A historical article
This is an age-old article written in Dutch, which dates back to the 1990s. What's particularly remarkable about the article is that it represents a momentous milestone in the relationship between Vietnam and The Netherlands, with their collaboration to build one of the first schools for the gifted in Hanoi. It was the Dutch people's support that eventually led to the foundation of Hanoi-Amsterdam and its success today.
The article starts by giving a detailed summary of the close-bonding relationship between the two countries in the past. During the 1980s, the Dutch helped to train Vietnamese overseas students in areas of medicine and vaccination for common diseases in our country. It had already been of great aid to Vietnam in its time of economic crisis.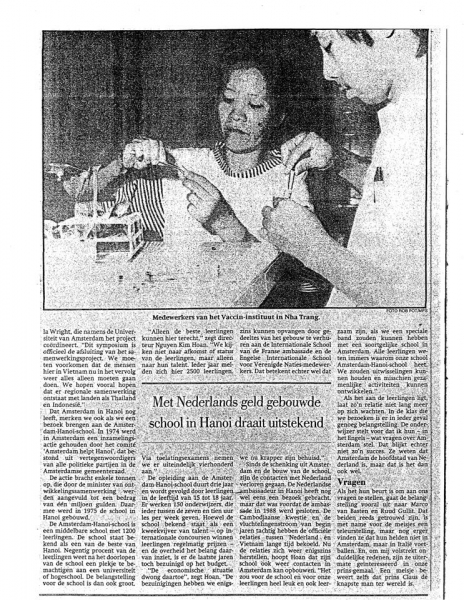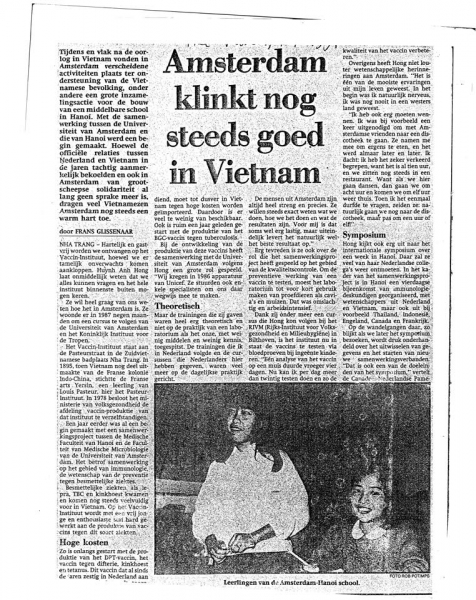 Moreover, the mayor of Amsterdam back then, who had become interested in Vietnam's educational system, decided to create a charity raising money to build a school that would serve as a symbol of the two nation's friendship. Hundreds, or even thousands of kindhearted citizens of Amsterdam gathered to donate, hoping to make this dream come true and further strengthening the bond between the countries.
In the year 1985, Hanoi-Amsterdam High School for the Gifted came to life. Representing the Dutch people's will, the school's main purpose was to nurture the potential and talent of Vietnamese youth, regardless of either their backgrounds, or social statuses.
Later on, the author of this article paid a visit to Vietnam and the high school he once helped creating. Impressed by Hanoi-Amsterdam students' excellence and enthusiastic manner in welcoming foreign visitors, he decided to write about it. The author described, in order for the school to keep thriving, the Dutch assisted its budget for expansion, exchange programs would be made, and they also encouraged the school to adopt various types of sports, such as football.
Thanks to the people of The Netherlands and their support all along the way, Hanoi-Amsterdam has bloomed into a success with generations and generations of dynamic and talented students. It is hoped that the relationship between Vietnam and The Netherlands, as well as the co-operation between the two nations, will last forever.
Reporter: Hoang Trung English 1 - 1417