Attending the Party Admission Ceremony were Vice Director of Hanoi's Department of Education and Training Nguyễn Quang Tuấn; President of People's Committee of Cầu Giấy Phạm Văn Triển, and other parents, students, and party members of Hanoi - Amsterdam High School for the Gifted.
To ensure the ceremony's solemn atmosphere as well as keeping the Party's ideals and what it takes to join the Party relevant and close to the high school students instead of something beyond their abilities, the ceremony also had several interesting activities. Among them, an art gallery to celebrate the 92th anniversary of the Ho Chi Minh Communist Youth Union was prepared, drafted, and put on display by the school's party members, which attracted a great deal of attention.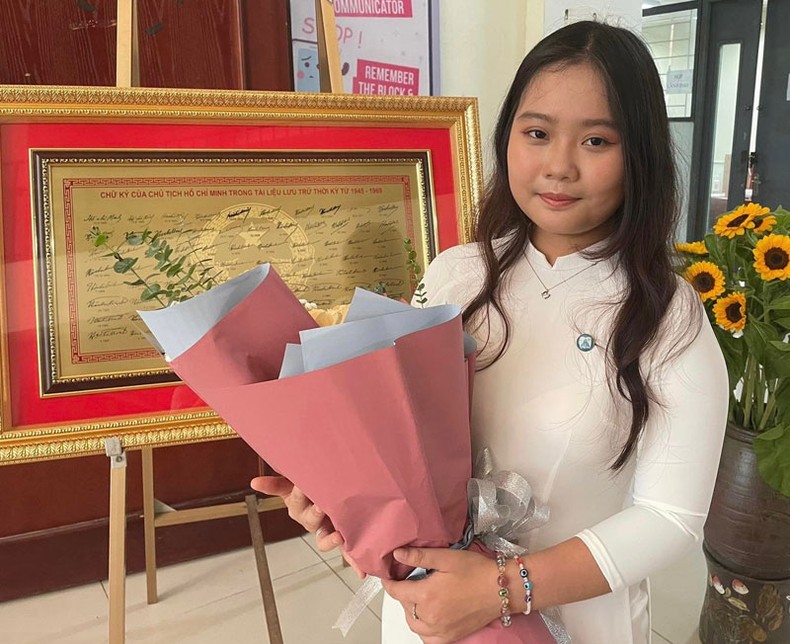 Young Party member Nguyễn Mai Trang.
Nguyễn Mai Trang (member of the 12 Chemistry 2 Union) and Lê Thị Thu Ngân (Secretary of the 12 Geography Union) were two outstanding students of Hanoi - Amsterdam High School who had had numerous accomplishments in not only academic but also school-related and union-related work.
Nguyễn Mai Trang is an all-rounded student with impressive achievements in extracurricular activities. She was admitted into both the Chemistry and Literature classes of Hanoi - Amsterdam High School and English - Russian class of Foreign Language Specialized School in the High School Entrance Exam. During her time at the school, Mai Trang continuously received the Excellent Student certificate. Mai Trang also notably participated in and held leader positions of many school clubs as well as having earned numerous prizes in national and international drawing competitions.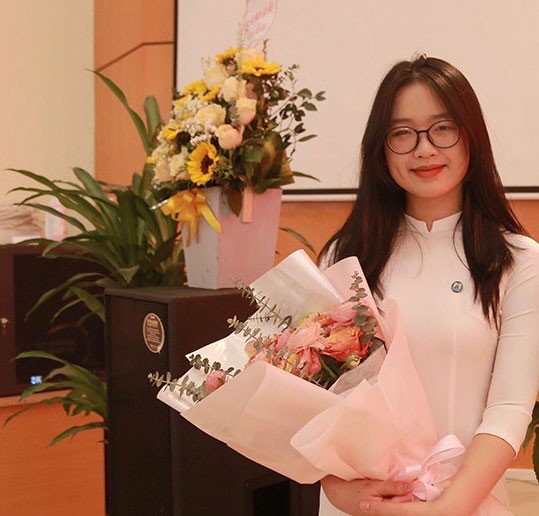 Young Party member Lê Thị Thu Ngân.
Lê Thị Thu Ngân also has impressive achievements: Salutatorian of Geography, First Place in Hanoi's City-level Olympiads and member of the Geography team in the 2022-2023 National Olympiad. In addition, Thu Ngân is also very active in extracurricular activities, with those ranging from faction-related work to clubs and activities by Hanoi's Youth Union. She has also received a great many congratulations from the Ho Chi Minh Communist Youth Union from many levels for her positive contributions…
At the ceremony, each student after being admitted into the Party read the Oath before the Party.
In her speech, Secretary of the People's Committee of the Party and Principal of Hanoi - Amsterdam High School Trần Thùy Dương said: one of the important missions of the School's Party is to spot, nurture, and admit high school students qualified enough for the Communist Party Of Vietnam. This work not only helped provide the Union with new blood but would also fill the Union with prospective, knowledgeable members full of ideals and a desire to contribute to the State as part of the Party.