Trinh Anh Minh - Winner of 15 mathematics medals at the age of 12
With his achievements upgraded at IMSO 2018, Trinh Anh Minh - a 7th grader of Hanoi - Amsterdam High School for the Gifted has fulfilled his goal of winning all gold medals at every Math competition he had attended.
At 18h30 of October 4th, the family of Mr. Trinh Khai Ca arrived at Terminal A1 of Noi Bai International Airport to welcome the Vietnamese Delegation from the International Mathematics and Science Olympiad 2018 in Hangzhou, China.
Arriving an hour earlier, the family anticipated the arrival of their son Trinh Anh Minh along with his gold medal. Minh's grandfather, at the age of 78, held a sunflower bouquet while waiting for his grandchildren, searching for the sight of him every once in a while. Mr. Khai Ca was also very anxious to meet his beloved son after a week of distance.
Not only the family but a crowd of teachers and friends from Hanoi - Amsterdam High School and the parents of other team members had arrived early, bringing along flowers, banners and the flag of our school to welcome Trinh Anh Minh and the Vietnamese Delegation. Though the flight was delayed for one hour, the joy was still in the room.
A year of conquering the goal for the 15th Gold Medal
Unable to remember the exact times he had picked his son up from the airport after Math Olympics, Mr. Khai Ca still felt very special about this experience. "It is very different and special, for this is the only competition that Minh hasn't won a gold medal beforehand", Mr. Ca said.
Trinh Anh Minh, the son of Mr. Ca, has attended many National and International Math Competitions. For gold medals only, Minh has won 14 of them since 2016, the most recent from IMAS, IKMC 2018, Platinum Prize at APMOPS 2018 or winning twice at AMC Australia…
Trinh Anh Minh coming back home after winning gold medal at IMSO 2018
Photos: Dương Tam
At the International Mathematics and Science Olympiad 2017, Minh was the youngest of the Vietnamese Delegation. Despite winning the silver medal, Minh was upset for losing score over trivial mistakes.
With 100% multiple choices tests, Minh always excels them with flying colors. However, written tests have always gotten the better of him. This made the father ponder, then later decided to help his son with presentation skills, for it is not only important for future contests but also for Minh's upcoming career and future.
In the summer of 2018, apart from taking Math 4 times a week, Mr. Ca took Minh out to a handwriting class with 1st and 2nd grader as well as a Literature Class. Gradually, the presentation skills of Minh improved. When school year came, Minh's friends were astonished, calling Minh "so good at writing, as if he has changed his major into Literature."
Thanks to practicing with presentation, Minh has achieved his first goal at IMSO 2018. He was one of the last three to be called up to the podium for the medal, meaning that he had gained the third highest score among 400 students at the Olympics.
Minh was so proud to have been able to upgrade his medal. The test had 25 multiple choices and 6 experiments. Though his presentation improved, he believed his experiments were slightly unsatisfactory. "That part was the most difficult and account for the most points, which pushed students to concentrate and be creative", Minh said with a will to practice more on this part for future competitions.
Unsurprising achievements of the "golden boy" of Math
At the airport to welcome her student, Mrs. Cao Thi Van Oanh, form teacher at Minh's class in Hanoi - Amsterdam High School, assess Minh as a well-rounded student, especially in Math and English, He is smart, creative and very hard-working.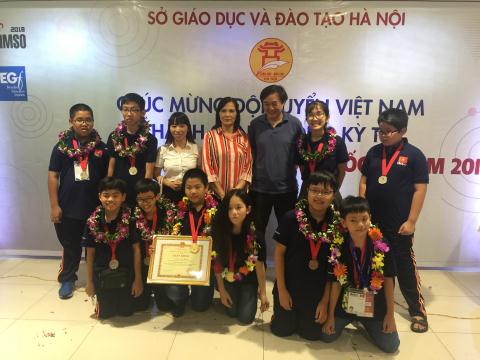 Mr. Ha Vu Anh - Head of Mathematics and Informatics at Hanoi - Amsterdam High School with teachers in the welcoming ceremony
"Since the beginning of 6th grade in Ams, I have discovered Minh's gift for Math and save advanced Math assignments on him. Minh was never shy - in fact, he was always excited. He usually complete the assignments logically in many different ways ", quoted Mrs Oanh.
Trinh Anh Minh and teacher Tran Phuong in the welcoming ceremony of the Vietnamese Delegation at NoiBai Airport in 4/10.
Photos: Duong Tam
Assisting Trinh Anh Minh through International Math Olympics, Mr. Tran Phuong, Vice Head of Talent Developing Center, was impressed with this specifically talented student. Minh could solve many math problems that other seniors fail to solve with the tactics of just a 5th grade student.
Highly regarding Minh's quick logical thinking, teachers aren't much surprised at the 15 gold medals Minh gained in National and International contests. Minh still aspires to attend more Math Competitions to communicate with international friends, challenge himself and be acquainted to more variations of assignments.
The 15th International Mathematics and Science Olympiad was held in Hangzhou, China, from 28 September to 4 October, with the participation of 400 participants from 22 countries. This is an annual English Math and Science contest for elementary school students under 13 years old worldwide.


The year 2018 is the fourth time Vietnam has participated in this Olympiad. All 23 of 23 students participated in the competition won medals, including 8 gold medals, 10 silver medals and 5 bronze medals. This is the best performance of the Vietnamese delegation since entering the tournament.


In 2019, Vietnam will be hosting the 16th International Mathematics and Science Olympiad. The Hanoi Department of Education and Training and the IEG Educational Institution are responsible for organizing the upcoming Olympiad.
Translated by Hong Minh - English 1 1720