Drug Prevention at School- A Meaningful Extracurricular Session!
Recently, on December 5th, 2016, Ha Noi-
Amsterdam High School had a meaningful extracurricular session at the start of the week on the theme "Drug Prevention at School". The talk show enjoyed the attendance of the Hanoi Department of Security, Schoolmistress Le Thi Kim Oanh, Secretary of the Party Committee, the Principal, teachers in the school managing board together with all students of Ha Noi- Amsterdam High School. Through this activity, students have equipped themselves with essential knowledge and skills of recognition, prevention as well as laws and orders regarding the use, storage and transportation of drugs.
The Monday of the new week started with a solemn etiquette of assembly of both teachers and students of Ha Noi- Amsterdam High School. The red national flag was pulled up in the resounding voices singing the National Anthem, generating a heartening enthusiasm for the start of a new day hailing a coming stressful school week when the first semester's finals were imminent.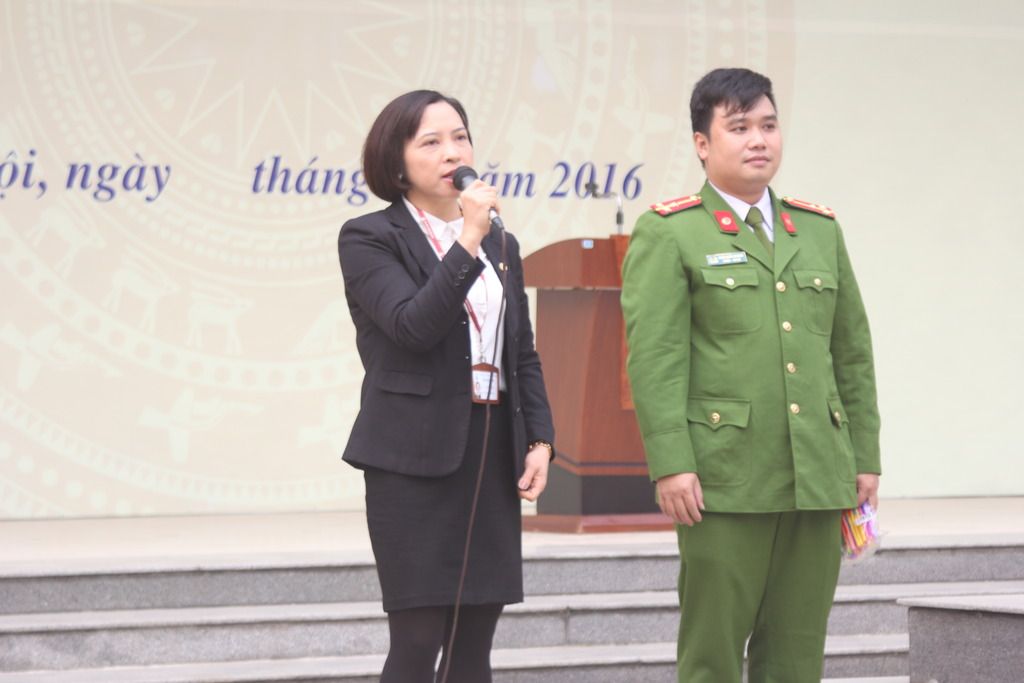 Mrs Duong Tu Anh introducing Officer Ngo Quoc Khanh
The assembly was followed by a session of commendation and reward for recent excellent emulation achievements. Prestigious prizes were called, accompanied by immeasurable pride, facilitating a persistent endeavor in everyone to become talented Amsers, not only excelling in their studies but also standing out in extracurricular activities, in regional as well as international competitions on various scales.
Following the commendation session came the talk show with a focus on "Drug Prevention at School", which was also the session evoking most interest and concern from students in the very first morning of the week. Officer Ngo Quoc Khanh, Secretary of the Youth Union, the Drug Prevention Team, representing the Ha Noi Department of Security, had sincere and profound information as well as delivered helpful knowledge to Amsers on how to recognize and prevent drugs, what the implications of drugs for human beings are.
Beginning the talk, in order to create a comfortable and intimate atmosphere, Officer Ngo Quoc Khanh sang all the teachers and students of Ha Noi- Amsterdam High School a very meaningful song: "Dear Mom". The voice was raised in the enthusiastic response and lasting hearty applause from the students.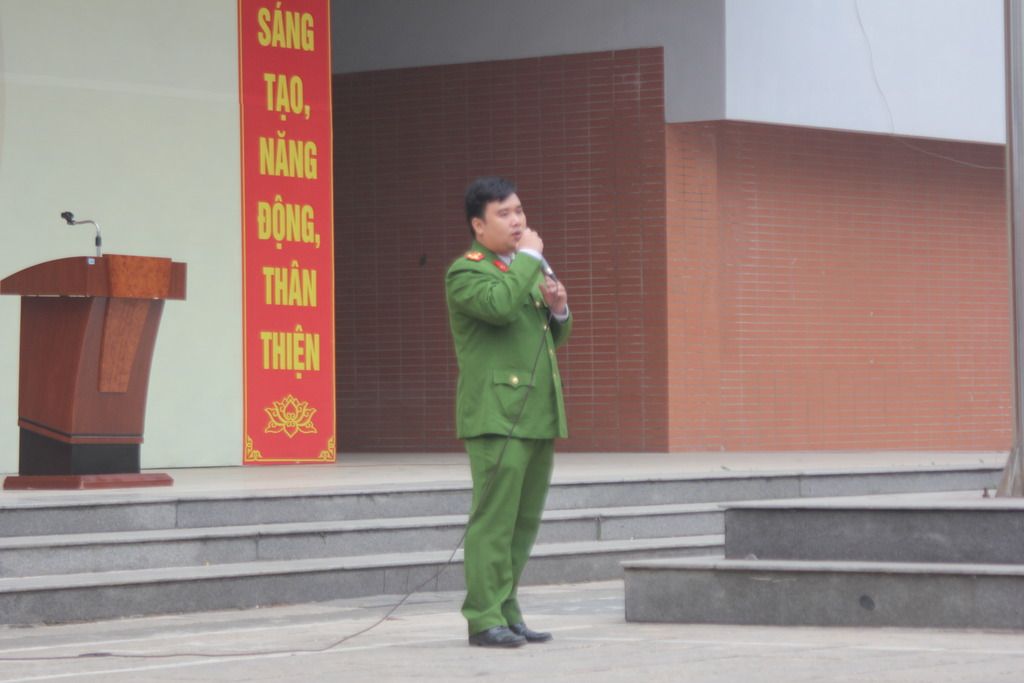 The emotional opening performance of Officer Ngo Quoc Khanh to socialize with students from Ha Noi- Amsterdam High School
Next, with the question:"What are drugs?" students were open to express their personal opinions and share their background knowledge about drugs. Officer Ngo Quoc Khanh remarked: "You all demonstrated the most rudimentary knowledge about drugs." and recapitulated: "Drug is a stimulant, a forbidden substance. It has negative effects on people's mental and physical health, affecting the central nervous system, evoking ecstasy and creating hallucination,… Drug abusers can become heavy addicts."
Officer Ngo Quoc Khanh socializing with students of Ha Noi- Amsterdam High School
Students also gained some knowledge about types of drugs: methamphetamin, weed, heroin,… or even popular addictive substances these days like K2/Spice, stamp drugs, balloons of high laughing gas, shisha,… He made an emphasis on ways of packing and various "guises" of drugs, maybe in chocolate form, lazy cakes ( soft egg cake mixed with weed inside)… Although some substances are not illegalized and are not in the "drug list", still, they are stimulants that have dire impacts on people's health, under no circumstances are we to try taking them. Tools of using drugs were also mentioned in details so that everyone knew how to recognize and avoid being exposed as well as being exploited for tricks of addicts.
Common tools used to take drugs nowadays in the form of ordinary bottles
In terms of drugs' consequences, besides suffering from serious health problems, drug users, no matter heavy or mild, also have to bear the legal sanctions both administratively and penalty. Moreover, drugs leave an indelible "stain" in each person's resume, narrowing and taking away future prospects. Through stories in real life, the Officer helped students to comprehend deeply and profoundly terrible implications of drugs for humans' life, thus steering clear and preparing essential methods to prevent drugs.
Officer Ngo Quoc Khanh stressed that everyone must heighten their vigilance and be wise to be aware of the surroundings, avoiding falling into traps of evildoers, especially high-school students who are the top targets offenders often aim at. Furthermore, ways of recognizing addicts or drug users were pointed out elaborately with specific manifestations such as: usually falling into the state of sleep deprivation, regularly playing truant at school, gathering in bars, dance halls, bringing drug tools like straws, tiny nylon bags, …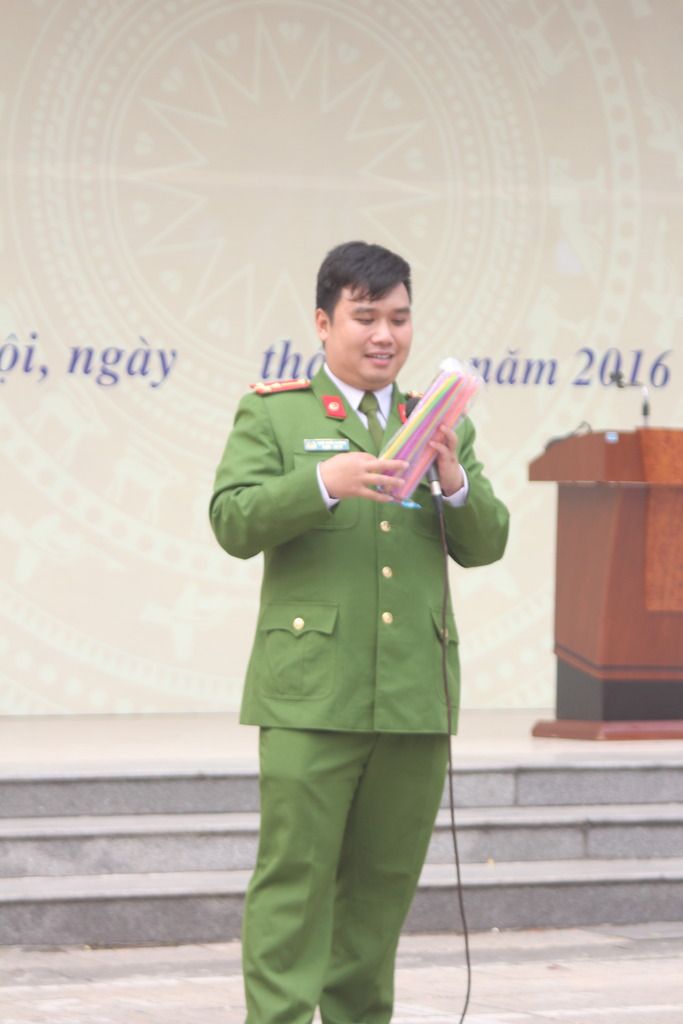 Bunches of straws with different colors often used to take drugs
Rounding off the talk show, Officer Ngo Quoc Khanh expressed his gratitude to the School managing board for arranging such a meaningful session on drug prevention, at the same time stressed the responsibilities of every teacher and student in terms of drug prevention at school: enthusiastically participating in extracurricular activities concerning drug prevention, propagating among others, signing commitment documents to refrain from social evils as well as drug evils,…
Mistress Duong Tu Anh, the school Vice Principal, representing all teachers and students of Ha Noi- Amsterdam High School, expressed her gratitude for the educational information as well as the knowledge Officer Ngo Quoc Khanh had delivered and remarked the talk show as successful with the serious attention from all students and closed the session.
The meaningful extracurricular session starting a new week provided Amsers with a lot of helpful social knowledge. Drugs are the common evils of the whole society, hence everyone must exercise extreme caution and conduct their civil duties and responsibilities properly, contributing to shaping a peaceful, developed and civilized nation.
Reporter: Ngoc Minh - Literature 16-19
Translator: Nguyen Ha Trang - English 16-19