Math major schoolgirl beat 7 grandmasters, winning the National Chess Tournament
At the National Excellent Chess Tournament of 2022, Nguyen Hong Nhung (Class 11 Math 2 of Hanoi-Amsterdam High School for the Gifted) secured a convincing victory and won the Gold Medal in the super blitz category
Hong Nhung's National Champion title can be regarded as a rare occurrence in Vietnam. In super blitz chess, each side only has 1 minute to think and 2 seconds are added after each move.
Hong Nhung won 8.5/9 points, 1.5 points higher than the runner-up, an entire round's worth of points ahead. She beat 5 female grandmasters of the World Chess Federation and 2 international.
Hong Nhung's Gold Medal helped bring the Hanoi delegation to first place of all delegations in the National Excellent Chess Tournament of 2022 with 4 Gold Medals, 1 medal more than the runner-up team coming from Ho Chi Minh City.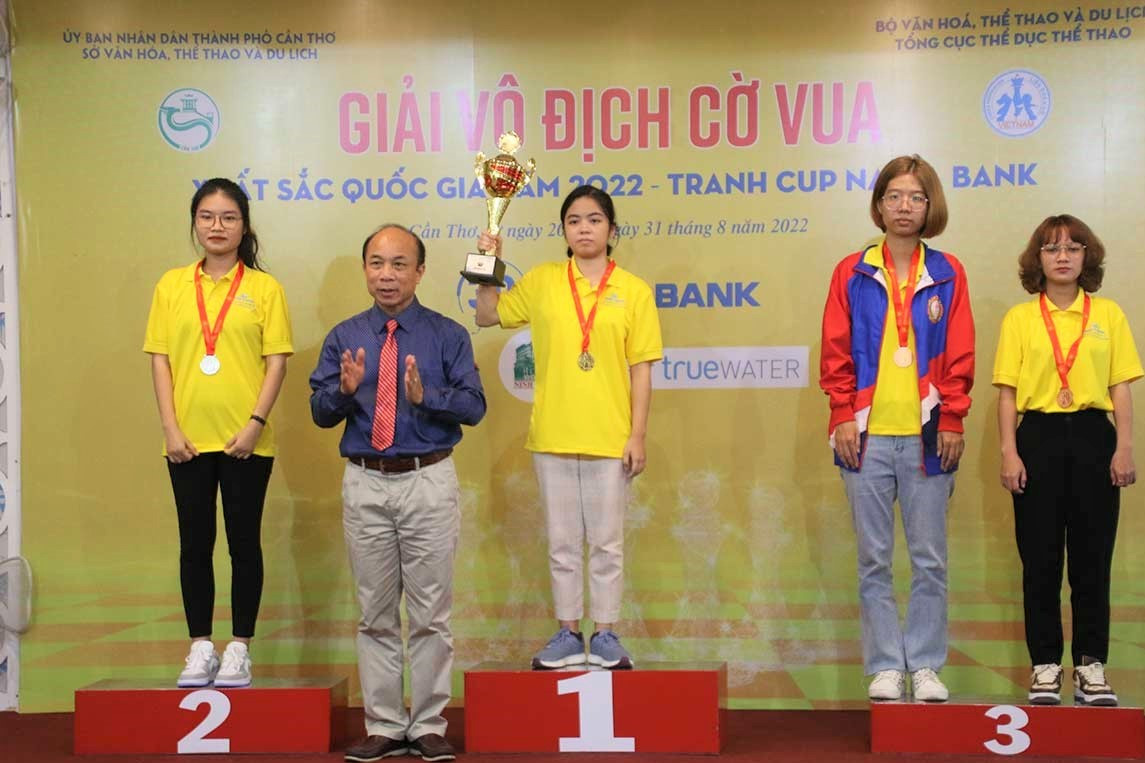 Nguyen Hong Nhung (11 Math 2 of Hanoi - Amsterdam High School for the Gifted) snatched a Gold Medal for super blitz chess at the 2022 National Excellent Chess Tournament.
Having participated in many different national and international tournaments, Hong Nhung said that this was perhaps her most memorable tournament. This is the first time super blitz was included in the contest and also the first time she'd got such a high prize.
With this, some have jokingly said that Hong Nhung is the "gifted student with the most national prizes."
Previously, Hong Nhung had 1 Gold at the 2021 Female U16 World Youth Chess Championship, a Silver at the Female U16 World Youth Chess Super Championship and about 10 nationals at youth tournaments.
Hong Nhung also won a Bronze Medal at the National Speed Chess Championship 2021.
Only in the past few summer months, Hong Nhung has won 8 medals in numerous U17 national tournaments, of which there are 5 Gold medals.
Thus, Hong Nhung is also the student with the highest number of national prizes in the history of Hanoi - Amsterdam High School for the Gifted and with them not being in other cultural subjects but Chess.
Not only is she good at playing chess, Hong Nhung has also impressed others with her academics. She was an excellent student while studying in Hanoi - Amsterdam Secondary School.
More impressively, in the high school entrance exam of 2021, Hong Nhung "set a record" for passing all 3 majors, namely Math, Literature and English. Hong Nhung's school achievements are also remarkable, as her scores are at the top 2 of her Math 2 class with a GPA of 9.5 in 10th grade.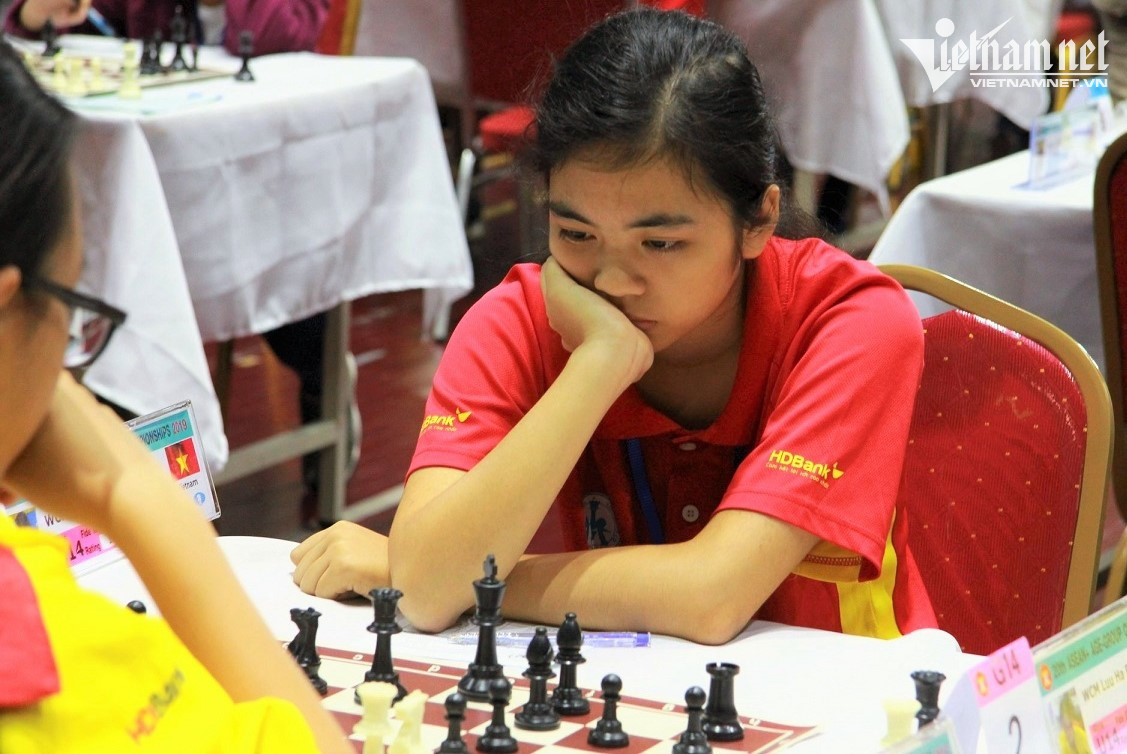 After realizing their daughter's hobby when she was 5 years old, Nhung's parents registered her for the chess club. Having practiced chess since the age of 6, Hong Nhung has played chess for 10 years. She now spends about 1-2 hours every day on this subject.
In order to improve her skills, Hong Nhung not only focuses on learning from her teachers but also actively reads English books about chess with the goal of improving both her chess skills and her English.
Nhung is well self-disciplined, patient and persistent in learning and practicing.
During her chess journey, she often goes compete for days on end, but whenever she comes back, she always tries to make up for it and keep up with her friends. Nhung believes that without self-discipline and patience, it is difficult to achieve good results.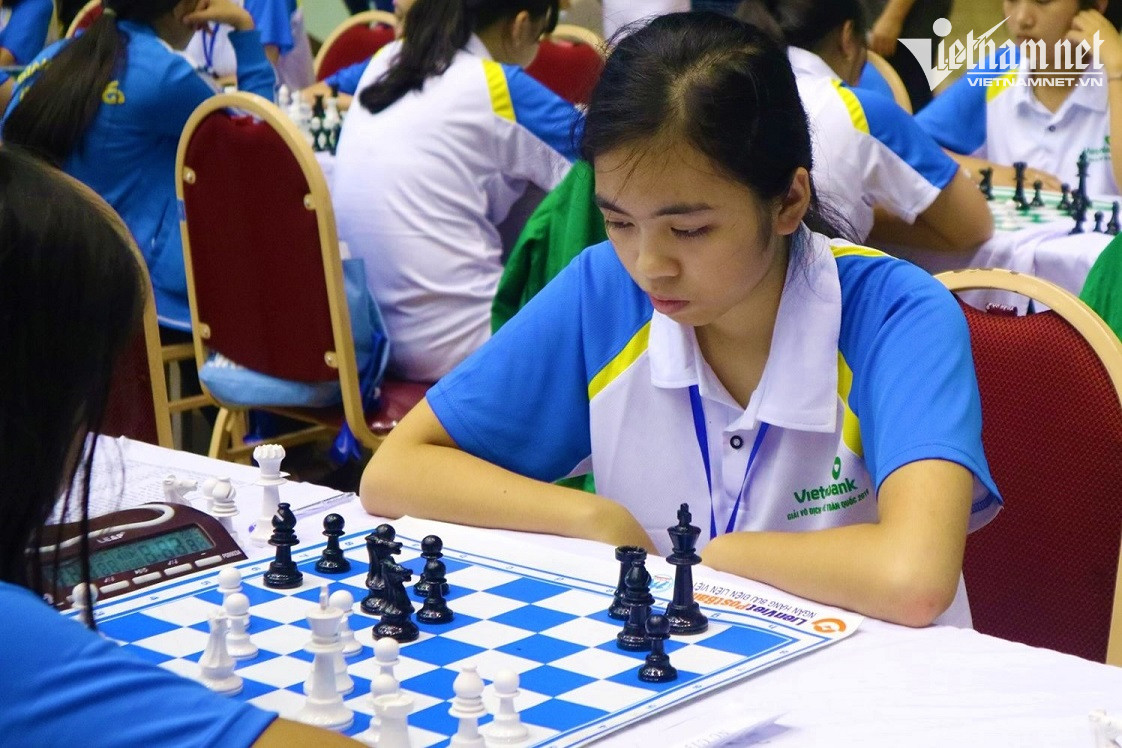 Nhung said that she did not encounter many difficulties in balancing between study and chess. She scientifically arranges her time to study in class, take part in school clubs' activities and study chess regularly.
"The thing that bothers me the most is the long absence during the contests. Luckily, my teachers have always understood and helped me as much as possible."
Hong Nhung shared that playing chess gave her a lot of valuable experiences. "This subject is filled with hard and interesting challenges, the battles on the 64-square chessboard are as fierce as soccer matches on the field. Playing chess also trains your concentration, perseverance and patience", Nhung said, encouraging young people to try out this mental sport.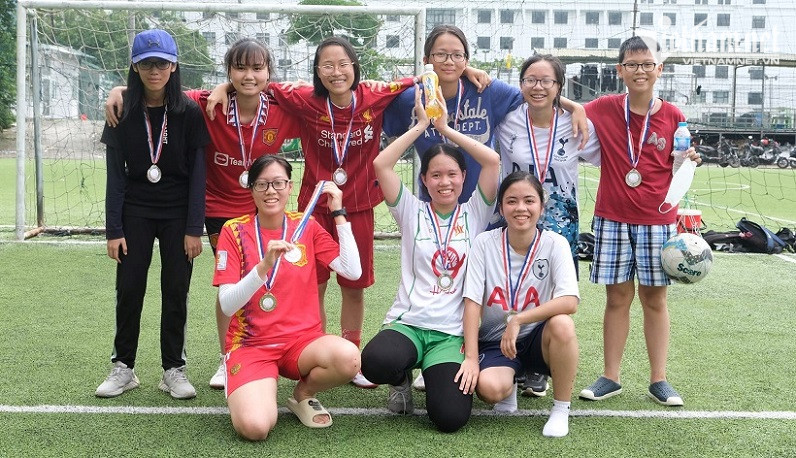 Outside of school and chess lessons, Hong Nhung (bottom row, far right) has fervently competed with her friends in soccer tournaments at her school as well.
Outside of her school time, Hong Nhung also enjoys playing jianzi, soccer and sudoku with her friends.
In the upcoming days, she will continue to attend the 2022 World U16 Chess Championship to be held in Romania and set her present aim to increase her elo rating and a long-term goal to win more medals.
According to Thanh Hùng (Vietnamnet)
Translator: Ngô Vũ Ngân Hà - Russian 2124