Alumni Room - Recreate the old atmosphere inside the new Ams
Previously, on September 1st, at Hanoi -Amsterdam High School, the inauguration of the Alumni Room has successfully occurred after a month of remodeling with great enthusiasm and ideas from former Amsers.
In the conduct of Hanoi Amsterdam Organization, the contribution of teachers and generations of alumni, the project of Alumni Room officially reaches the inauguration ceremony on the meaningful day of September 1st. Recreating the atmosphere of the old Hanoi - Amsterdam (No. 1, South High) in the heart of the new Hanoi - Amsterdam (No. 1, Hoang Minh Giam, Hanoi), Alumni Room serves as an important connection, a place to keep school's memorabilia throughout the 31 years of construction and development. At the same time, Alumni Room is also a place for several generations of Amsers to join activities, meetings and to spread the Ams spirit through the exhibits on display in the room.
Alumni Room is beautifully exhibited after more than a month of the finishing construction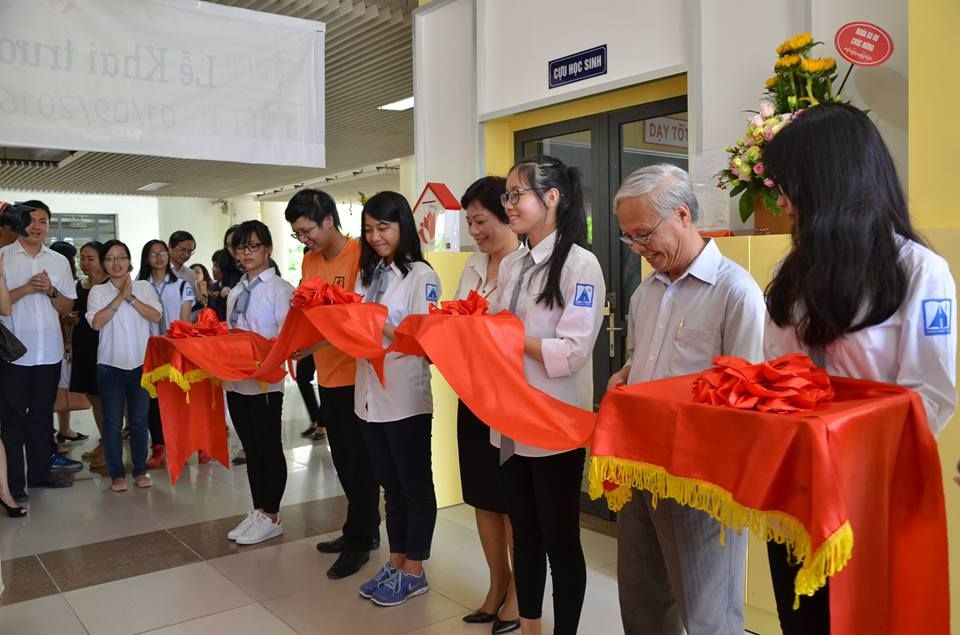 Teacher Nguyen Kim Hoan - Former school principal, teacher Le Thi Oanh - Party Secretary, School principal and Mr.Mai Thanh Ha inaugurated the Alumni room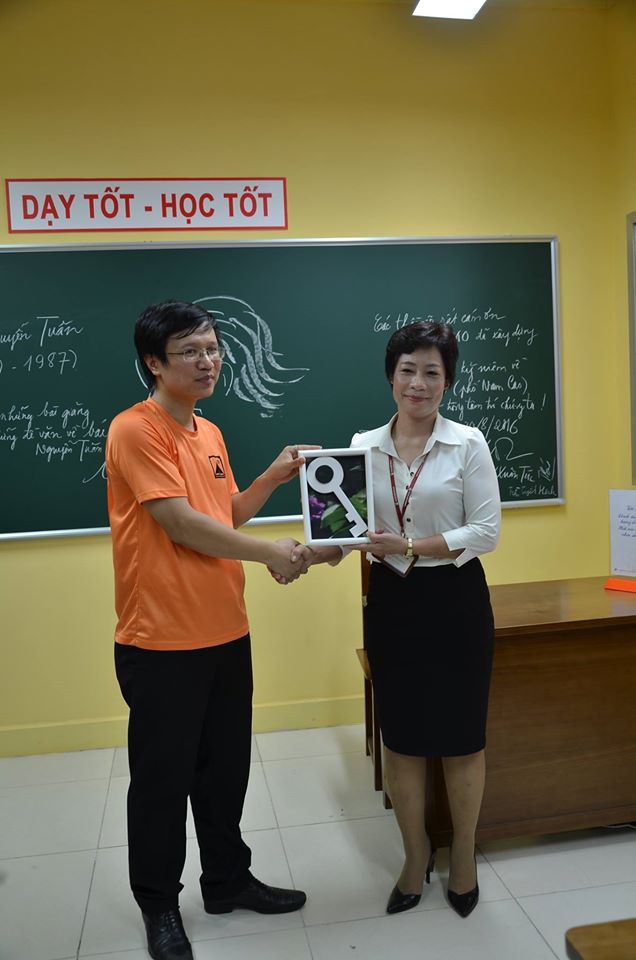 Teacher Le Thi Oanh, Secretary of Party Committee and School principal attended the inauguration ceremony of the Alumni Room
Outstanding Teacher Do Lenh Dien, former School principal of Hanoi - Amsterdam being photographed at the inauguration ceremony of the Alumni Room
Completely bewildered viewers with the harmonized atmosphere of the new - old Ams, the Alumni Room brought memories of a past quaint and idyllic Hanoi - Amsterdam before 2010. This atmosphere is blended into a modern and energetic Hanoi - Amsterdam. The spirit and enthusiasm that has been preserved and passed down through the generations until today, the Alumni Room is the historical proof of the traditional values ​​that were formed. Inside the Alumni room, many generations have emotionally recalled nostalgic memories.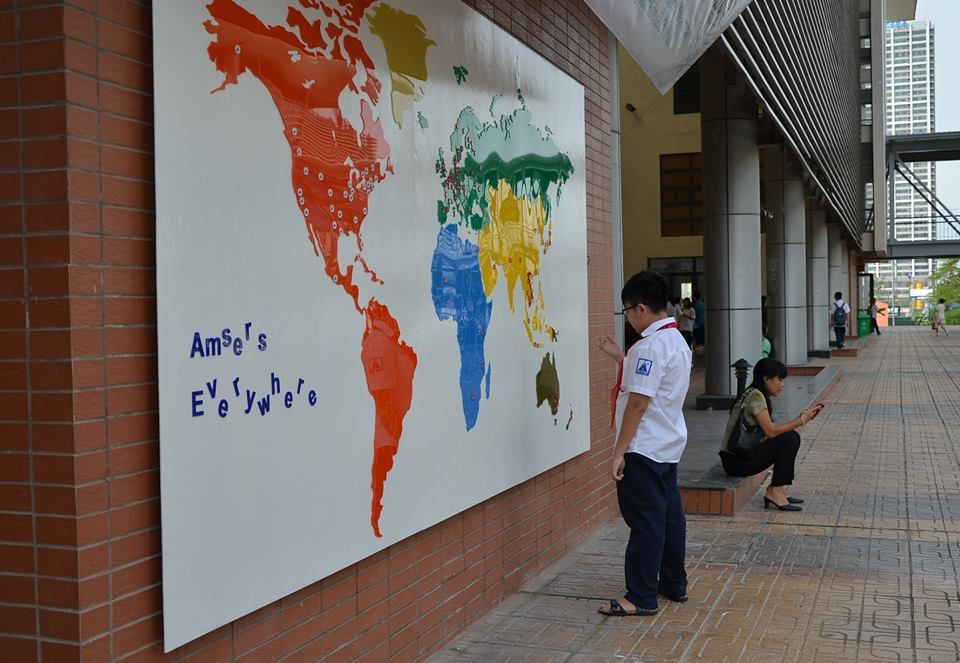 The Amsers Everywhere map is displayed before the room, attracting the attention of Amsers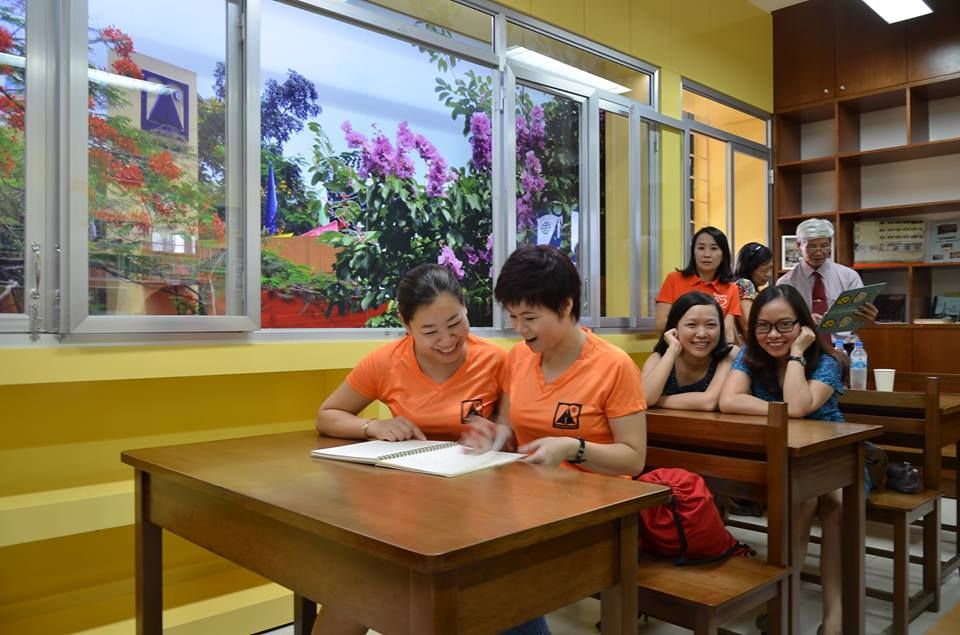 The Alumni room is the place for generations of Amsers to recall old memories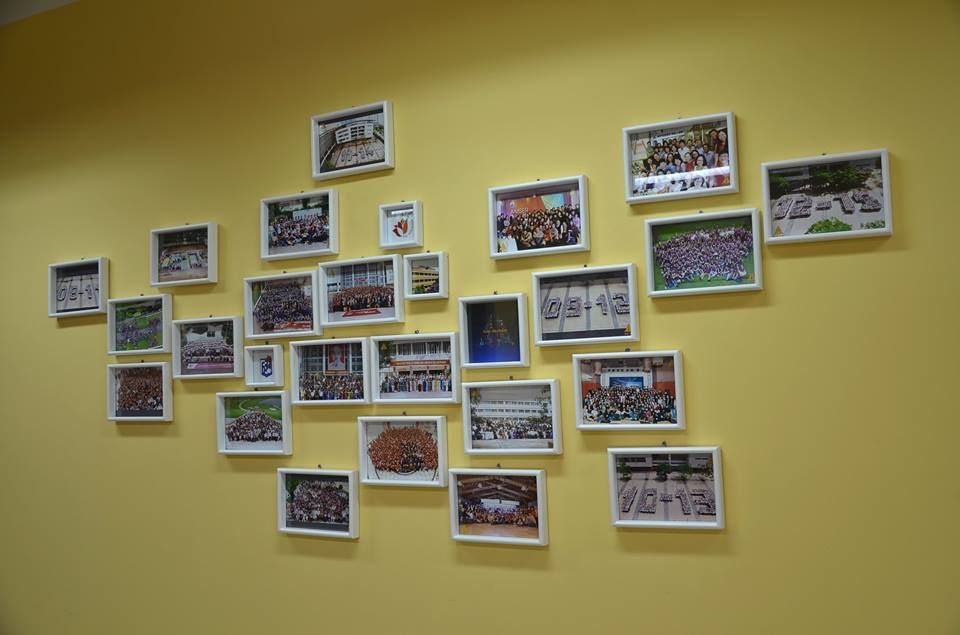 The photos through the years with generations of Amsers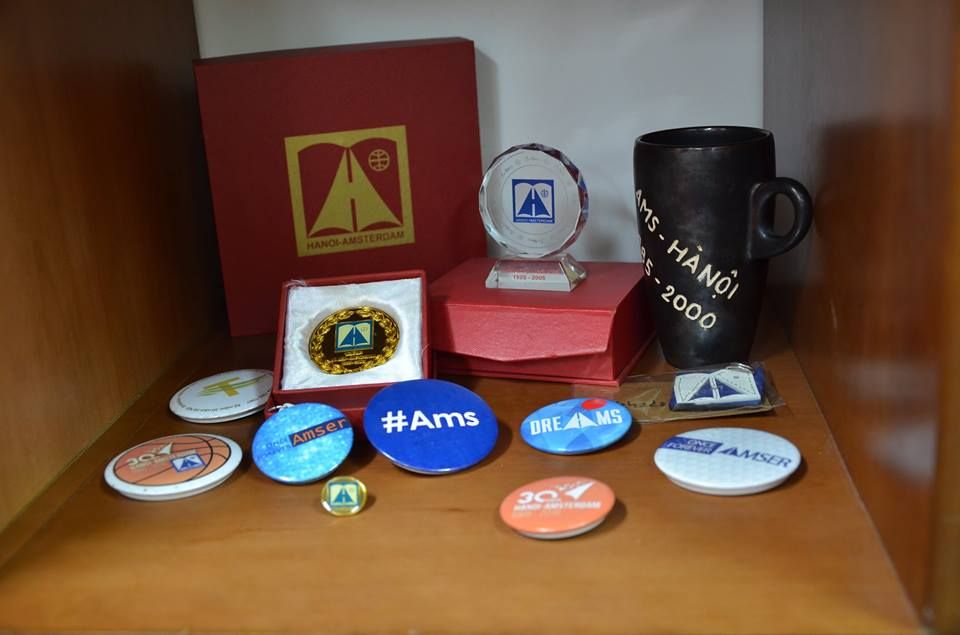 The meaningful badges of Ams in the celebration of 30 years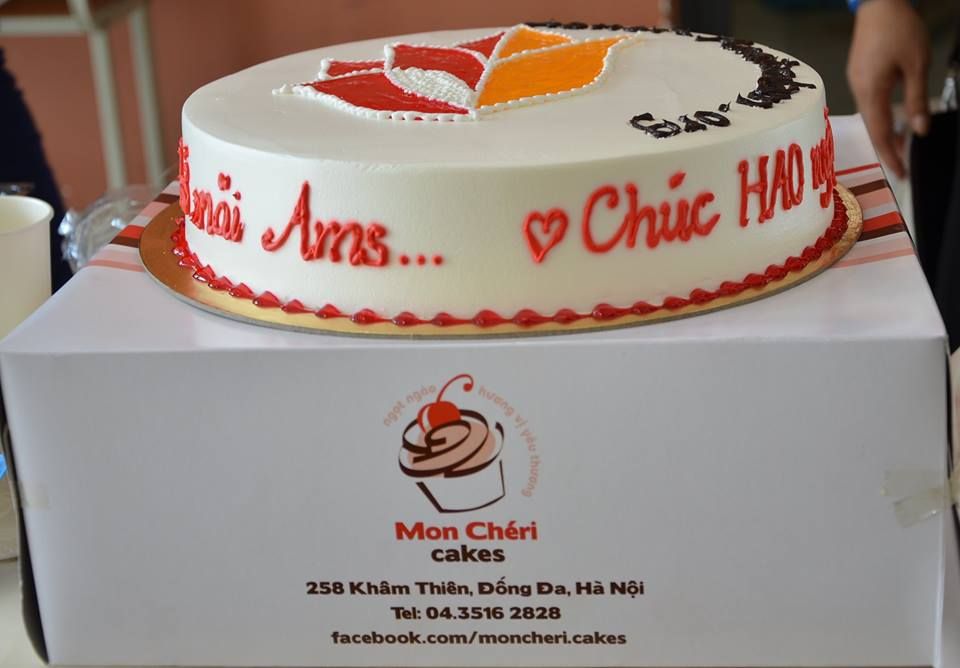 Congratulatory cake carefully decorated with the logo of Hanoi Amsterdam Organization
Wood cabinets display pictures filled with memories in the Alumni Room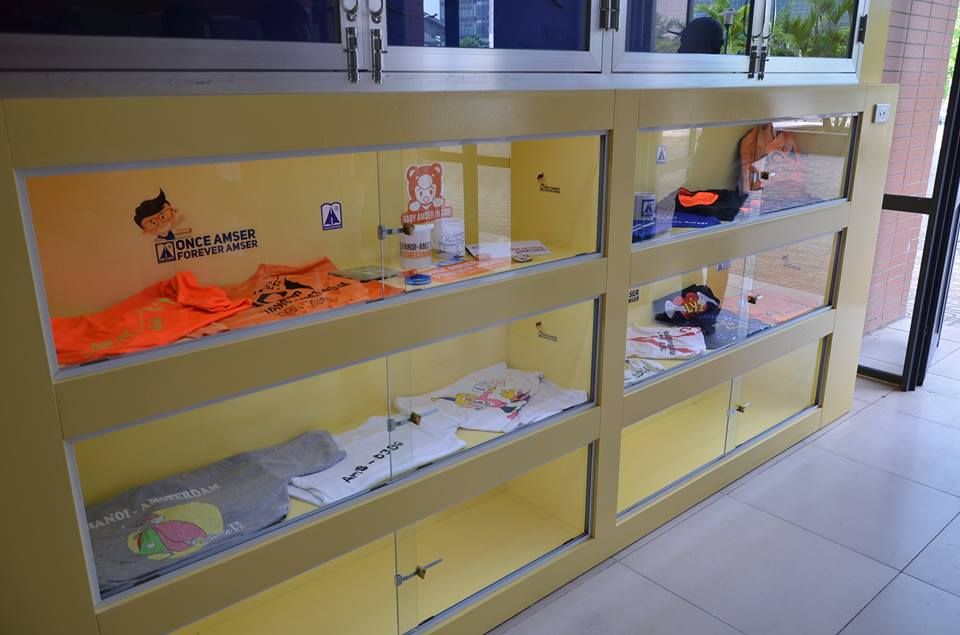 Outside of the Alumni room are mugs and shirts with the logo of Ams

Faces and memorable smiles at the Inauguration ceremony of the Alumni Room: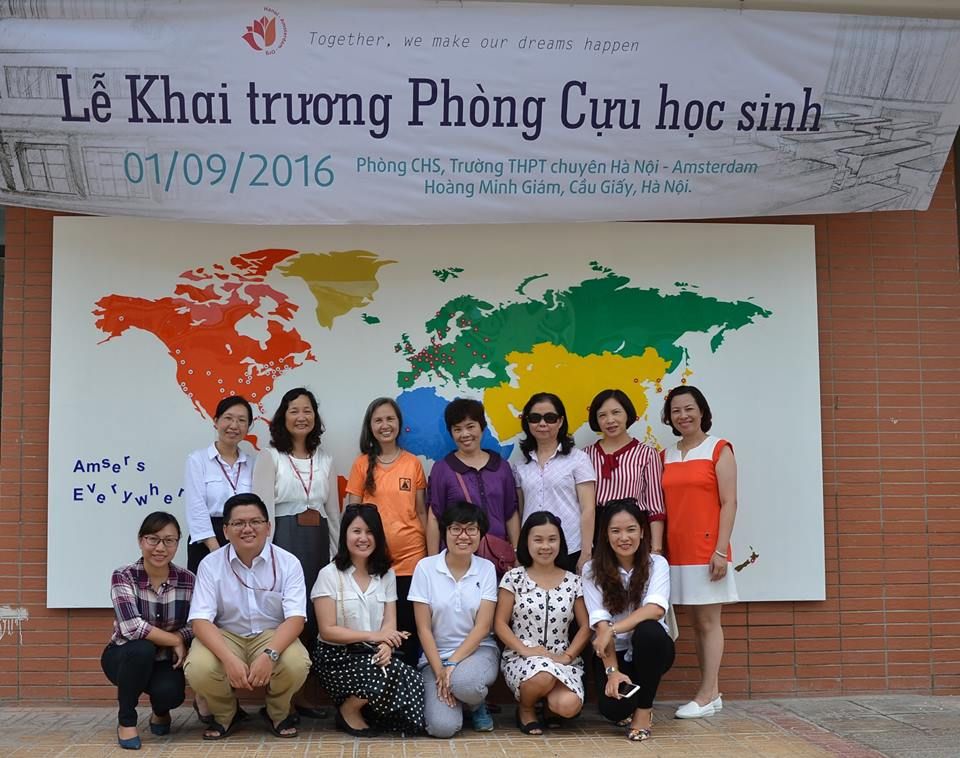 Through the Alumni Room, the former and the present generations of Amsers have mounted together to build, preserve and spread the spirit of Amsterdam to the teachers, students and staff in the school. This is also the temperament and traditions of Hanoi - Amsterdam that have been preserved within the past 31 years and will be in many years to come.
Reporter: Nhat Linh - Literature 1417