[Vietnamese Teachers' Day -20/11] Dear Mr. Bùi Hoàng Đàn- the one who always cares for us.
A revolutionist once said: "A good teacher is like a candle, a candle that lights the way for others". And to me, that person is Mr. Bùi Hoàng Đàn- the English teacher of our class.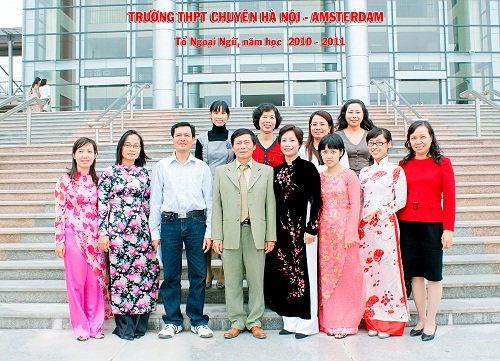 Mr Bui Hoang Dan in white shirt
My first impression of him was his gentle face, his thoughtful eyes and a smile that is always on his face. I don't know his age, but he must be over fifty. He looks plain in his regular shirts and trousers – humble, but still formal as a model teacher.
Mr Đàn is a teacher with great responsibility and he is absolutely punctual. After all the time that I learned from him, despite heavy downpours or freezing cold winter morning, I have never seen him late even for a second. Sometimes, when I was five minutes early, I already saw him outside waiting to come in our class. As if he never wants to waste his students' time, he always tries to be punctual and lets us out right when the session is over because he knows his naughty kids need to relax before starting another lesson.
Every of his lessons in our class is always the most comfortable and joyful time in a week. He never shouts at us as he only prompts us softly. Whenever there is noise in the class, he would calmly say: "Quiet please, students" with a smile to distract us from our talk. Moreover, he usually tells us funny stories in order to redirect us into the lesson. The short stories could be in Vietnamese or English, real or unreal but they are really funny and profound. Furthermore, when he is in the mood, he would sing to us some foreign songs from a long time ago. Please do not think that his voice is rough, in fact, he is really good at singing with a beautiful and passionate voice. When he starts singing, he closes his eyes to enjoy the rhythms, his soul is carried away with the lyrics of the song and his arms spread out just likes a professional opera singer. Although sometimes this spontaneous singer forgets the notes, this is actually the way the Mr Đàn has helped us to relax after stressful lessons.
Mr Đàn, we know that because you are so nice, we sometimes "bully" you by becoming noisy in class and not paying attention to your lesson. So please forgive us for all the foolish mistakes that all these kids have made. Watching you everyday teach in class, passionately giving lectures to us, we really respect and are grateful to you in particular and all the teachers in general who guide us to the port of knowledge. All the things you have taught us will not only accompany us in school but will also follow us in our life ahead.
On the occasion of the Vietnam's Teacher Day 20/11, the Chemistry 13-16 class would like to wish you good health, happiness, optimism like right now and success in your teaching career.
Reporter: Nguyen Phương Linh – Chemistry 1 13-16
Translator: Le Quang A1 14-17