NGUYEN MANH QUAN: 9TH GRADE STUDENT WINNING 2 FIRST PRIZES IN SCIENCE AND MATHEMATICS
In the recent Regional Academic Competition (grade 9), the Hanoi-Amsterdam High School has excellently brought in many valuable prizes. Among the school's incredible students, there is an outstanding example of Nguyen Manh Quan, a student of class 9A who won two first prizes in Mathematics and Science.
Manh Quan is a core member of the Hanoi-Amsterdam High School's Math team. In the recent Provincial Academic Competition, Manh Quan was awarded the First prize in Mathematics with a score of 18.5 and Science with a score of 46.25. In addition, in the 8th grade, Manh Quan incredibly won the first prize in Chemistry for grade 9 students.
Manh Quan - 9th grader with the first prize two Mathematics and Science
About the studying process, Quan said: "I am fortunate to have my mother who is in fact a Chemistry teacher so I can have the advantage in consolidating my knowledge. During the 8th grade I participated in Chemistry contest and was lucky to have won the first prize. In the 9th grade, I had additional lessons in Maths and Science. Thanks to logical thinking, I was quick to absord new knowledge and therefore I did not experience too much difficulty . Also, when encountering hard problems, I would ask my teachers or friends to help. Everyone is enthusiastic and caring enough to always lend a helping hand. "
When asked about the secret to success, Manh Quan shared, "The most important factor when taking an exam is mentality. Strong mentality and self-confidence are prerequisites to success in exams. I would also like to thank Miss Bich Hang for leading the science team and Mr Vu Anh for Mathematics for having always been by my side and giving me useful advice. "
Not only being a smart and talented boy, Quân is also a model student, a much loved friend. Phạm Vũ Bích Hằng, Ph.Đ., who is in charge of the science team of the Hanoi-Amsterdam High School, commented on Mạnh Quân: "Quân is a very intelligent student, extremely serious in studying and very eager to ask and learn new things. Moreover, he is very humble and always willing to help his friends. In the science team, there is one student whose parents does not support his studyings; despite the fact that he performs so well at school . Mạnh Quân was always the trustworthy shoulder of encouragement, support and the bridge among people. He then won two Second Prize in Science and his major. Quân is always be there for people with such a sense of responsibility and sincerity. "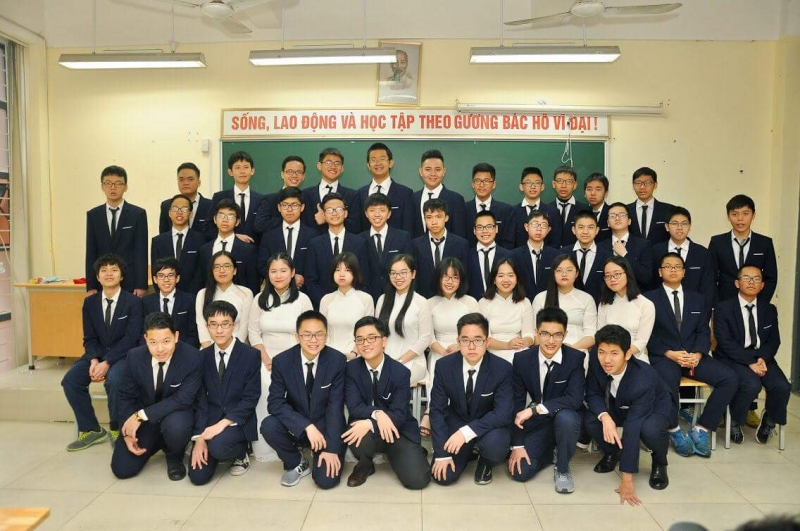 Manh Quan and class 9A
Despite acquiring such high achievement, Quan is not at all arrogant. In contrast, he maintains that he needs to try a lot to keep up his performance in the upcoming 10th grade exam. His dream high school is no where else but the Hanoi-Amsterdam High School.
On behalf of Ams Wide Web Editorial Board, we would like to express a congratulation to Manh Quan for having excelled in the first two Provincial Academic Competition (Grade 9). Wish you will always be calm, confident and promote your ability in the upcoming 10th grade exam. Hope you will continue to accompany with Hanoi-Amsterdam in the last three years of schooling. Good luck!
Reporter: Linh Chi - Literature Class 1619
Translated by Dang Duc Anh 10a2