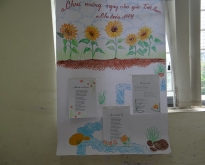 Đăng bởi: trangtrang

| 19/11/2017 | 2,068

Lượt xem

Đăng bởi: trangtrang

| 11/07/2016 | 2,508

Lượt xem
As Made in 12 came to an end, 13-16 Amsers said the final farewell to their beautiful student years…

Đăng bởi: trangtrang

| 11/07/2016 | 2,401

Lượt xem
Made in 12 is the biggest annual event for 12th graders of Hanoi-Amsterdam, leaving them with unforgettable memories. After numerous events...

Đăng bởi: trangtrang

| 14/10/2015 | 3,468

Lượt xem
In the afternoon of August 19th, despite the blazing heat of the summer, new Amsers of 15- 18 session are still eager to join the Club Fair- an...

Đăng bởi: trangtrang

| 22/06/2015 | 2,926

Lượt xem
Author: Dang Thanh Hai (Literature 13-16) "Youth... People think of it as beautiful not because of its external beauty but because of our...

Đăng bởi: trangtrang

| 20/06/2015 | 5,097

Lượt xem
Nguyễn Phương Linh Chemistry 1 (13-16) Dear Ams!

Đăng bởi: trangtrang

| 02/03/2015 | 3,696

Lượt xem
In 30 years, the logo has always been on the left side or in front of the hearts of generations of students. Simple as it is, it represents the pride...

Đăng bởi: trangtrang

| 02/03/2015 | 2,970

Lượt xem
MS 003 AMS – MY WAY HOME Tôn Nữ Thanh Bình Computer Science 12 – 15