Three years filled with memories
I am writing this when there are only fewer than 50 days that Ams is coming to an end, for real.
I still remember vividly the first time I set foot on Ams. It was a 6th-grade mock test day, I was just a 11-year-old student, too small for such an enormous place like this. Perhaps, it was the afternoon after the test wandering along the corridor of Ams to wait for my mother that formed the first memories of Ams – Ams is too big, my legs were so tired and it took forever to walk from the back door to the front door. But I enjoy walking on my tired legs, enjoy walking along the multifuctional corridor, and enjoy looking at the newly-built and beautiful school like that.
I have seen the countdown many times at Ams. The first time was probably when I was in 6th grade, the message box was the polyhedron hanging on the ceiling of A-block. I still remember when the seniors called one another to lower that box and share the letters. At that time, even though I did not understand the meaning of the box, there were some thoughts in my mind: "I wonder, in the future, when I am as old as them, will I get any letters?"
Now, it is my turn to join Made In 12, to have countdown, and to have my own letters.
Ams has brought a lot to me. Valuable lessons about trying and never stop trying. When I failed, holding the worst school transcript of the class, and when I succeeded with the highest average score. All the friends who were willing to help me, staying up until 2am to teach me Physics, to give me advice whenever I felt demotivated. Ams has always been wonderful, and all my feelings for Ams have not changed, like what I have written for myself and my friends during the last days of Ams 2: "Only a few days left, our Ams 2 will come to an end. If someone asked me what Ams 2 means to me, I would say it is a memory. Not a small part of my whole life. Ams 2, is where I found my friends that I love and feel loved, where there were mischievous and innocent jokes that I will probably remember for the rest of my life…"
During these last days of Ams, there are still regrets. Perhaps, because of the 7 years -which may seem so long, I did not live life to the full at Ams sometimes. I regret since I have not done so much for Ams for the last 7 years. Looking up to those city prizes, or national, international ones, regarding those seniors as "monuments", they are exemplary models for younger generations to follow, I just want to do as much for Ams, even more. Because, Ams is my pupilage, I want to leave a mark here. I am afraid I don't belong to Ams. I am afraid that Ams will forget me. Those obsessions sometimes haunted me, and sometimes, I felt self-pity. But then, a senior told me: "Actually, you don't have to leave much, you just need to live to the full at Ams, it is wonderful already. Ams is too large for you to achieve everything you wish. Sometimes, you just need to reminsce about Ams, with all your love and that's enough."
It was when I realize how fortunate I am; here, in the embrace of my friends, of my Ams. I love Ams, and Ams loves me - to be brief and concise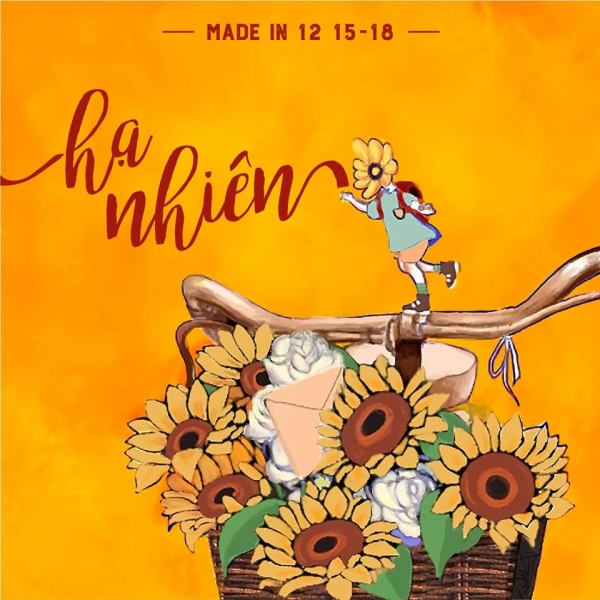 And Ha Nhien! Ams welcomed me with a lesson in the hot summer with nearly 50 people in one class in the K-block, and Ams also ends in the summer. The last summer at Ams, we are all grown-ups, there are only 20 people left in that big class, all of whom are busy with their own dreams. Ha Nhien is a reminder that we are grown-up, that there is only one summer left at Ams, one innocent and passionate summer. After 7 years, I have become wiser and older, and Ams has become smaller. Ams is so small now that walking from the back door to the front door only takes a few minutes, no more exhausted leg like before. 7 years, it seems to be an endless period of time, I once thought so, but now, I am going through the last days of this long journey.
"Only a few days left, our Ams journey will come to an end. If someone asked me what Ams means to me, I would say it is a memory, a profound and unforgettable one of my life."
I don't know for sure whether, 40 days later, when I am holding your hands, or hugging you guys so tight, my fellow 15-18s, I will cry like 14-17s last year or try to open my eyes widely, trying to save every single moment, but I know for sure that Ams will always be there, by my side, on every step that I make, in my heart. Ams has witnessed my 7 years of pupilage and growth, and Ams will continue to witness, support me and wait for the day I return, seeing Ams with my loving and bewildered eyes, just like the very first time…
And you guys! My fellow 15-18s! Tomorrow, each of us will walk on a different path. New school, and new friends. Maybe, 15-18 will be forgotten. Maybe you guys will find closer friends than 15-18, more cherished friends than 15-18. It is inevitable, as the number of times that we meet is lessened. But, only one request, don't forget. It may fade away, but don't let it go. Remember, at Ams, you have had your friends. And please always remember, Ams is home.
Reporter: Ngan Ha, 11 Chemistry 2
Translator: Dang Duc Anh 10 English 2