Russian specialised students joined the seminar about studying oversea
On the afternoon of February 26, students majoring in Russian-English have had the opportunity to learn more about studying in Russia in a seminar attended by the teachers from various Russian universities. In the lively and stimulating atmosphere of the workshop, the students have been able to obtain more knowledge on the matter, to help them make informed decisions in the future.
The seminar took place in the presence of students in grade 10 and 11 majoring in Russian English, along with 11 teachers coming from 6 reputable universities: The Moscow University of Civil Engineering, The National University of Science and Technology MISiS, The Tomsk State University, The Russian State Hydrometeorological University, The Ivanovo State Energy University, and The Moscow Aviation Institute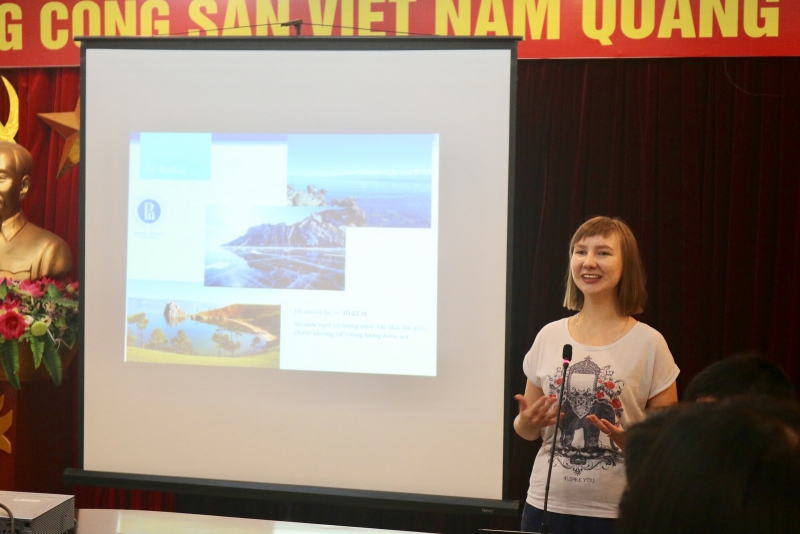 These are all prestigious Russia universities specialised a broad scope of domains, with many Vietnamese students enrolled in. Utilising well-prepared videos, representatives from these institutions have provided our students with many interesting facts and trivia regarding academic life there. The universities are all equipped with excellent infrastructure along with a specialised and highly competent board of faculty, and thus can prove to be an ideal environment for students aspiring after studying abroad. Not only is the provision of knowledge emphasised here, but extracurricular activities are also immensely highlighted. Students admitted annually can experience a wide range of festivities as a chance to relax after strenuous school hours.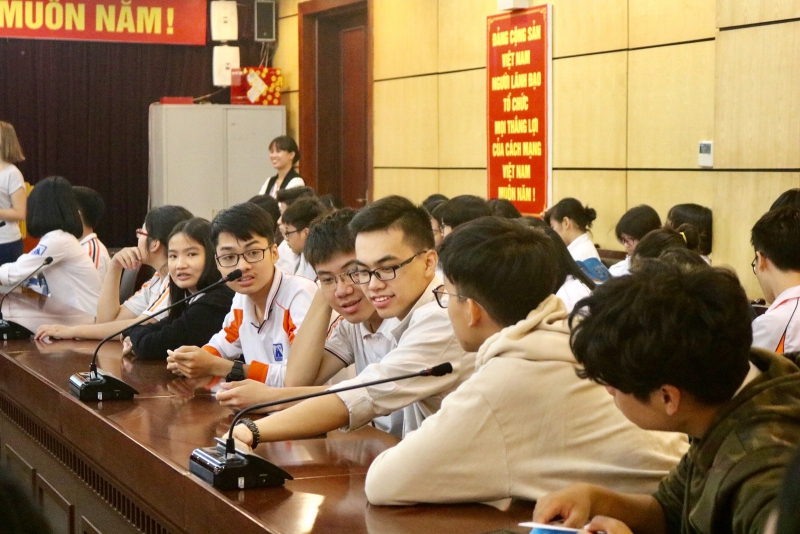 Not only did the talk provide the students with more information regarding studying in Russia, but it was highly memorable for those attending. Nguyen Ha Linh (10 Russian-English), holding the lovely gift from the foreign teachers, shared with us some of her thoughts on the seminar: "Thanks to today's session, I have been able to learn more about learning in Russia. In addition to that, the teachers also put in every effort to answer our inquiries and to illustrate the application process. Every university cares deeply about its students and tries the best to provide them with the ideal environment for them to enjoy learning, along with extracurricular activities. Even though the talk didn't last long, I did learn so much more from it."
The seminar has successfully broadened the students from Russian-English classes' understanding of the lovely country. We'd like to express our gratitude to the Russian university teachers for spending their time here in Hanoi - Amsterdam High School for the Gifted, and we hope that the talk today has provided every student wanting to study in Russia with useful information
Reporter: Nguyen Pham Nhat Linh - Chinese-English 1821
Translator: Doan The Vinh - English 1 1821