Hanoi – Amsterdam Astrophysics Team participates in the International Olympic - The beginning of a promisingly fruitful trip
Later this year in December, 5 male students of Hanoi – Amsterdam High School for the Gifted will represent Vietnam to participate in the International Olympiad on Astronomy and Astrophysics.
The International Olympiad on Astronomy and Astrophysics (IOAA) is an annual competition for high school students. The Olympiad is comprised of 4 main parts: theories, observation, figure analysis, and team work which will be presented on paper. This year, the competition is held in Bhubaneswar, India from December 9th to 19th with a total of 42 teams from different countries in the world.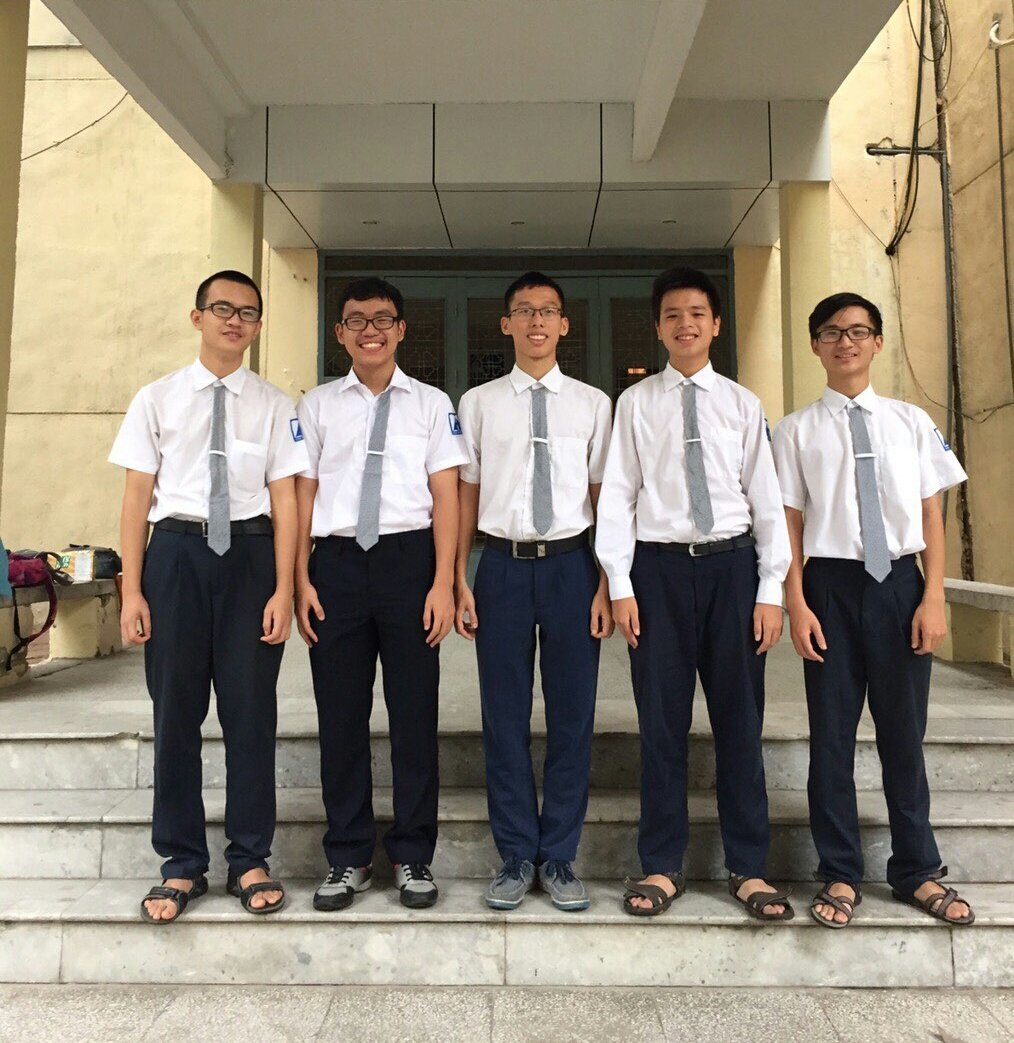 5 male students of Hanoi – Amsterdam High school participating in IOAA
This is the very first year Vietnam has the honour to compete in IOAA with all 5 representatives coming from the class 11 Physics 1 of Hanoi – Amsterdam High School: Nguyen Tien Nhan, Tran Duc Huy, Tran Quang Thanh, Le Hong Long and Do Le Duy. Ams Wide Web reporters were pleased to have the chance to interview the whole team about their preparations for the competition.
Reporter: First of all, on behalf of Ams Wide Web, I would like to thank you all for accepting our request for an interview. Now that the competition is imminent, can you tell me something about your feelings?
Being the first representatives of Vietnam to participate in such a grand international Olympiad certainly puts a great deal of concern and anxiety on us. But at the same time, we are extremely proud and excited about the upcoming event, and also try to maintain as relaxed as possible to enter the competition with highest spirits.
Astronomy and Astrophysics are special subjects of Science and are relatively new to Vietnamese students. So what are their interesting qualities that drive you to study them?
It is instinctive of human to learn, to study and to explore new things. Astronomy and Astrophysics lead us to discover deep mysteries of the universe, which lure us to do more research and studies to understand them profoundly. These subjects enable us to know more about celestial bodies in space or other fascinating phenomena such as meteor showers, solar and lunar eclipses, etc. In other words, they open our eyes to a vast world of magical beauties of the universe.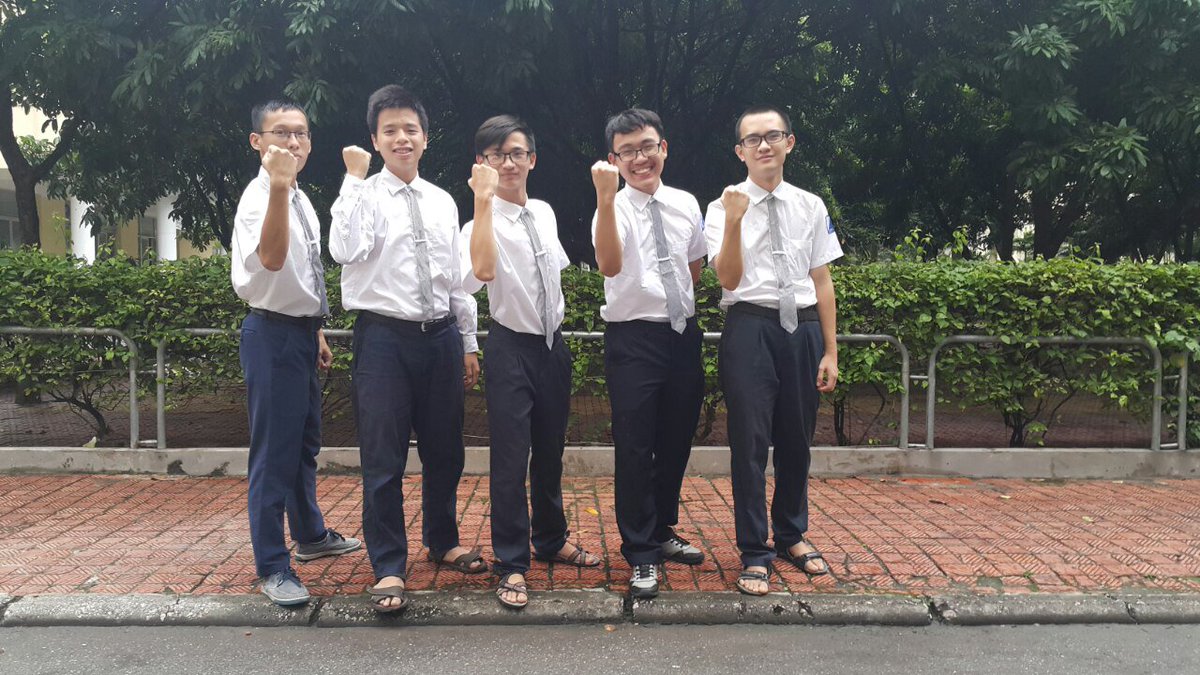 All of the members are really excited about the Olympiad
Participating in such a special competition, the team members and teachers who are in charge of the team must have had very intense, careful and thorough preparations. Can you share some of the skills or knowledge for the Olympiad that you have acquired?
To prepare for the upcoming contest, the team has been and are studying the fundamentals of Astronomy and Astrophysics. In addition, we have acquired and honed in on essential skills such as observation, analyse data or calculation under the training of experts in the field. With such preparations, we hope to gain initial success in the first time Vietnam participates in this Olympiad.
There are no easy roads to success, so what challenges did the individuals and the whole team meet while preparing for the competition? Were they just obstacles on the way or were they also a chance for everyone to try harder and be closer as team members?
It's true that there are no easy roads to success but the shortest road to overcome difficulties is to go through them. We first heard of this competition just 2 months ago. Because of the limitations of the standard curriculum, we did not have much knowledge of these subjects. After passing the entrance exam to be eligible for the competition, the team found out that the amount of knowledge needed to acquire is tremendous. At first we found it very challenging, not only because of the limited amount of time and finance but also because they are new subjects to Vietnamese students and there were not many teachers who specialize in this field.
Fortunately, we were trained by very conscientious and dedicated teachers. They spend a lot of time doing research and studying with the team. Apart from the time spent in class, we also do some real exams as well as exchange our materials. Doing many things together, we started to become closer and closer friends. This is the first year so there will definitely be a lot of difficulties, but we will try our best to overcome them.
The Astrophysics Team and leading teacher
Reporter: Being the first representatives of Vietnam in this competition, do you set any special goals this time?
Since it is the first time Vietnam has participated in this Olympiad, the whole team is trying very hard to achieve the highest prizes possible. Gaining success this time is an indispensable motive to take part in the next competition, or perhaps it will even make Astronomy a compulsory subject in Vietnam! So our goal this year is to exchange knowledge and learn from foreign peers, as well as win prizes. Surely what prizes we get is dependent on luck and the effort of each member and the team as a whole.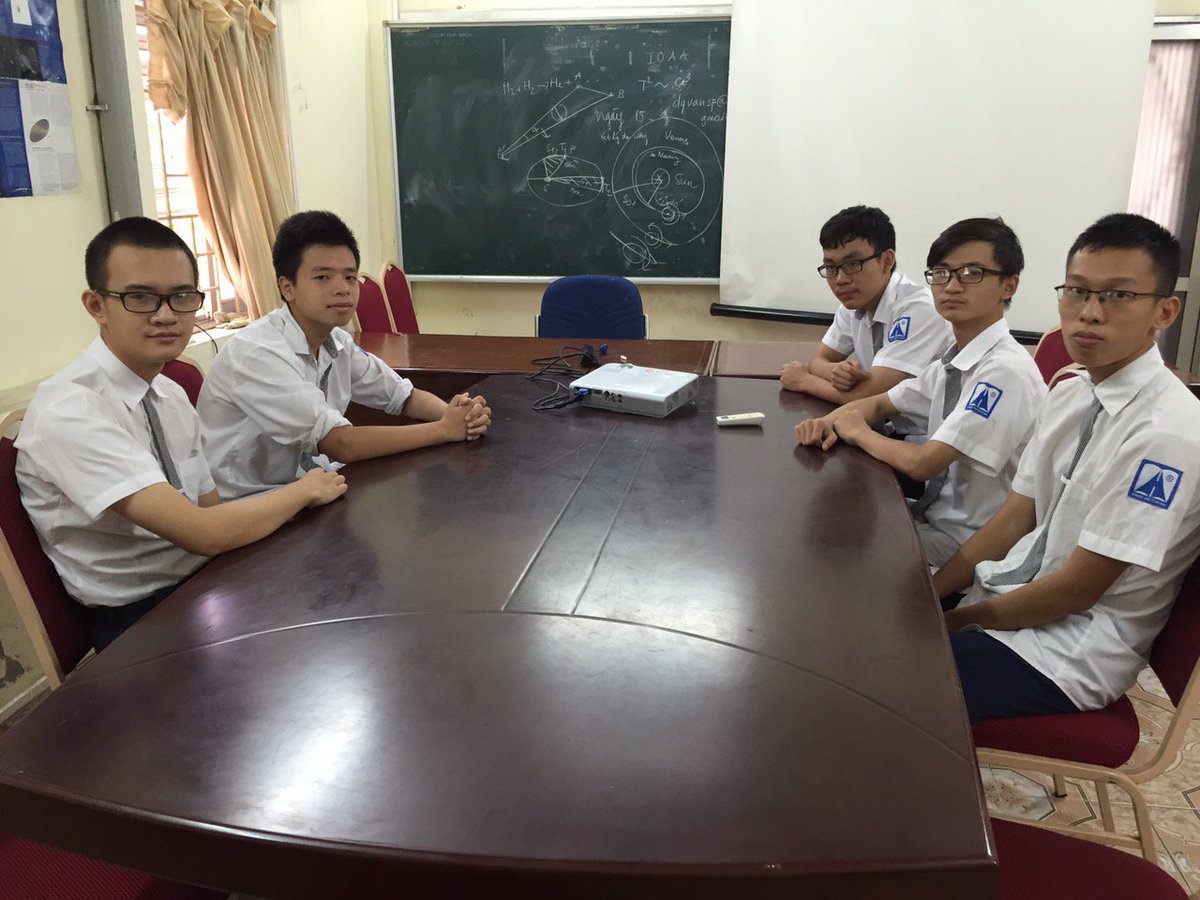 The whole team practice together to produce the best results
Reporter: A broader question: are you intent on continuing to study Astrophysics after the competition?
Nothing certain can be said about this. If we win scholarships to study abroad in America, Japan or England, etc ; or have the chance to get a job there, then we will consider pursuing this career since they are countries with advanced aerospace engineering and good infrastructures. But if we do not have the chance to study or work overseas then it will be hard to pursue this career since it is not widely known yet in Vietnam and the equipment required to study it is inadequate. We hope that in the future, Astronomy and Astrophysics will be more popular to people, especially after this competition.
Thank you so much for giving the most sincere and enthusiastic of answers to our questions today. On behalf of Ams Wide Web, I would like to wish the whole team an exciting and unforgettable experience, as well as the best results in the upcoming International Olympiad on Astronomy and Astrophysics to honour our country Vietnam and Hanoi – Amsterdam High School for the Gifted!
Reporter: Kim Chi – Literature 16-19
Translator: Minh Dung – English 1 16-19