Ams secondary school – where the little talents grow
The secondary school has always been famous for successfully training the gifted students who then become high school students of Hanoi - Amsterdam High School for the Gifted (AMS). As the school admission is implemented publicly and seriously with high demand, many students are under increasing pressure of the exam; however, every year there are hundreds candidates who apply for the school, the odds ratio for admission of 1:20 (schoolyear of 2014-2015): Ams secondary sector is always the center of attention for concerned parents and students alike in this admission season.
Teaching Quality
Mr. Nguyễn Kim Hoãn (former Director of Hanoi Education and Training Department, the first principle of Hanoi - Amsterdam High School for the Gifted from 1985 to 1995) established the school' education goal: "The secondary sector is opened with an aim to searching for and training gifted, talented students to for not only national but also international competitions while maintaining a specialised school environment from Grade 6 to 12." Under the direct instructions of experienced teachers, students of Ams secondary school have been a prestigious secondary school in Hanoi with the top number of students earning awards in the District and City competitions. Throughout 4 years of secondary school, little Amsers have the opportunity to learn from famous teachers with years of experienced such as Mr. Ngô Thế Hải (teacher of Chemistry), Ms. Doãn Thị Vân Anh (teacher of Math), Ms. Cao Thị Vân Oanh (teacher of Math), Ms. Trương Thị Thu Thủy and many other teachers who have not only exceptional teaching capability but also passion and devotion for their own students.
Three Golden-medal-winning students of APMOPS 2014. From Left: Đinh Thảo Vy, Lê Trí Lâm, Hoàng Anh Dũng. Source: Organinzers.
Every year, students of the secondary school bring inumerable national as well as internationl prizes to Hanoi - Amsterdam High School for the Gifted: over 100 prizes for Gifted students of the city, among which are a large number of First Prizes, medals in the Asia-Pacific Mathematical Olympiad for Primary Schools (APMOPS), high prizes in the English Olympiad for High School students and so on.
Students of Ams secondary school earn numerous prizes in the English Olympiad
It is doubtless that Ams Secondary school contributed to the students' accomplishments of Hanoi - Amsterdam High School for the Gifted – the elite student source for our country in the future.
Comprehensive development

Alongside with searching for and training gifted students, Hanoi – Amsterdam High School Secondary school also focuses on equipping students with soft skills so that all students can develop comprehensively – that is, both academically and personally. Every year, students of grade 6 and 7 participate in special class where they are taught skills necessary in life such as "Efficient Memorising Methods", "Skills for group work", etc. 8th graders have Sex Education and Reproductive Health lessons while 9th graders who are about to take part in the tough admission tests will have therapeutic talks with counsellers who help them decide on future pathways.
6th graders are taught practical lessons on life skills
Although secondary students do not have as many clubs and activities as do high school students, Ams secondary students are well-acquainted with group activities, activities of the school, class, unions as well as in small projects. "From the book to the stage" competition, "I love Science" club, Tet Festival, Graduation ceremony for 9th graders (commonly known as Nineternal) are only some of the many activities created and organized by talented students of the secondary school.
Graduation ceremony Nineternal = a program planned and held annually by teachers and students of the 9th grade.
Tet Festival – fair and performance in celebration of the traditional Tet holiday
Moreover, students also participate in many charity charity held annually: "Winter Warm clothes", "Loving Spring", donating for natural disaster victims in the middle region, etc. Secondary students are also educated on patriotism through meaningful activities such as Letters to Trường Sa soldiers, Lining to create the shape of Vietnam to show support to the naval force.
Students of 8 and 9 grade visiting Pediatric hospital – Faculty of Hepatobiliary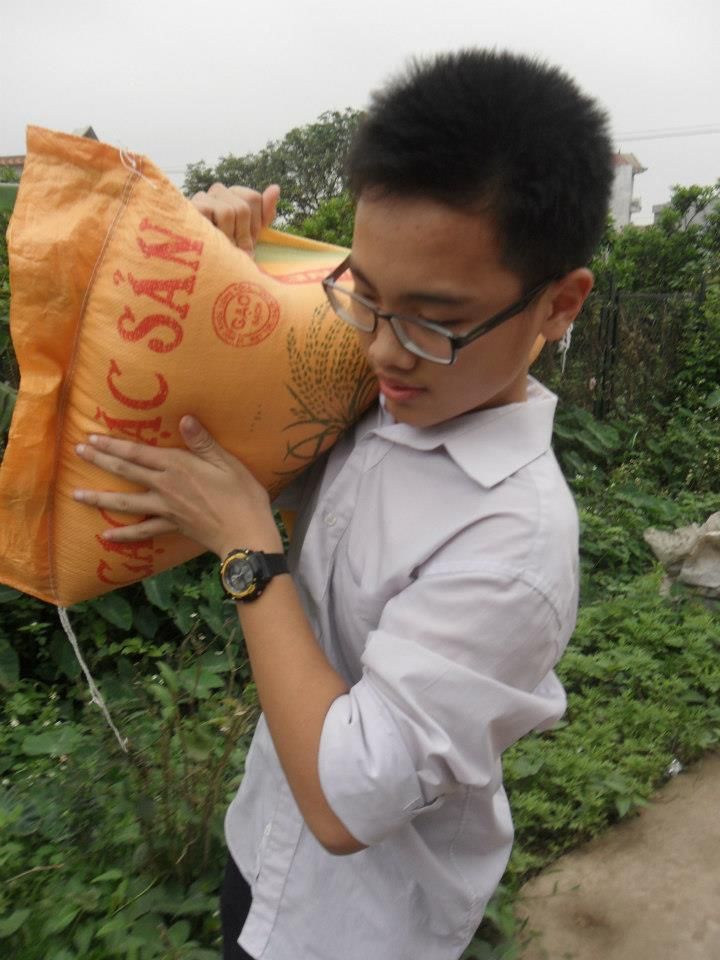 Charity rice sacks
Modern infrastructure
Hanoi – Amsterdam High School for the Gifted is located on an area of nearly 5 hectares at No. 1 Hoàng Minh Giám Street was crowned First Prize of the National Architecture competition in 2010 and was honored to be titled "Construction in celebration of 1000 year Thăng Long – Hà Nội" on the first day of 2010-2011 school year.
Hanoi – Amsterdam High School for the Gifted at No. 1, Hoàng Minh Giám, Cầu Giấy district, Hanoi
Besides the grandiosity in architectural design, the classic and the modern blending harmoniously in each line, the school was designed to embody the strong personality of genenerations of Amsers: liberal, creative, open-minded and dynamic. Right after the ribbon-cutting ceremony, Hanoi – Amsterdam High School was considered the most modern school in Vietnam. The school has 3 class sectors with 45 classrooms in total, a large gymnasium, a four-season swimming pool, a 700-seat auditorium, spacious canteen areas, standard parking system and sports areas. Establishing a green, clean, beautiful and health education environment is the key element to building Hanoi – Amsterdam High School for the Gifted.
The modern four-season swimming pool
The horizon to the world
Unlike other secondary schools in Hanoi in particular and in Vietnam in general, Hanoi – Amsterdam High School for the Gifted always willing to facilitate students' meeting and exchange with students from Vietnam as well as from other countries so that Hanoi – Amsterdam students can step by step integrate with the world. So many summer exchange programs in the United States, Singapore, Korea, etc. and arts or sports performance exchange shows have been held with the participation of international students that these activities have become an inevitable part of Hanoi – Amsterdam student life.
Hanoi – Amsterdam High School student meeting with participants of the International Chemistry Olympiad (IchO) 2014
Students of Hanoi – Amsterdam secondary school have the opportunity not only to exchange knowledge and make friends but also to acquaint themselves with standardized tests and the abroad study's application process from their secondary years. English competitions have been held to enhance students' language skills, among these is the English Debate competition for secondary students. Many secondary students have chosen the path of studying abroad right after their senior year. In fact, in the recent years, a large proportion of scholarship such as the A-star (scholarship for high school freshman and sophomore from Asian countries including India, Sri Lanka, China, Vietnam) go to Hanoi – Amsterdam Secondary students.
As a place where young talents are nurture and grow day by day, Ams secondary school is proud to be one of Hanoi capital top school with a large number of prize-winning students in national and international competitions. Under the direct instructions of capable and devoted teachers, in a standard studying environment, students of Hanoi – Amsterdam Secondary School have always been facilitated in the best way to develop and integrate. All of them created a school "brand" and further consolidated the quality of Ams Secondary school.
Writer: Phương Linh Literature 14-17
Translator: Minh Phương English 13-16